How To Sell Through Instagram? 7 Ways For Beginners
Welcome to the world of social media selling! Instagram has become one of the most powerful platforms for businesses and entrepreneurs to reach their target audience and make sales. It can be troublesome to know where to begin if you're starting.
But don't worry. This blog will show seven effective ways for beginners to sell through Instagram.
Whether you're a small business owner, influencer, or just starting to monetize your brand, these strategies will help you deliver good content through your Instagram presence and drive sales. We've got you covered.
Let's get started!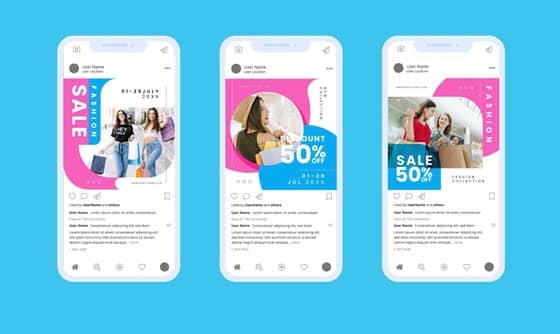 Table of Contents
Why sell on Instagram?
There are several reasons why selling on Instagram can be beneficial.
Large audience:
Instagram has over 1 billion active monthly users, providing a huge potential business customer base.
Visual platform:
Instagram is ideal for showcasing products and engaging with potential customers.
Targeted advertising:
Instagram offers targeted advertising options, allowing businesses to reach their desired audience effectively.
E-commerce integration:
Instagram has integrated e-commerce features, such as shoppable posts and product tags, making it easier for companies to sell directly through the platform.
Increased brand awareness:
Selling on Instagram can help increase brand awareness and reach a wider audience, leading to more sales and growth for your business.
Cost-effective:
Unlike traditional advertising methods, selling on Instagram can be more cost-effective and provide a higher return on investment.
Customer engagement:
Instagram allows companies to engage with their customers through comments, direct messages, and other features, building strong relationships and loyalty.
How to sell on Instagram? – A Guide for beginners!
Here is how new brands can start selling through Instagram.
Embed an Instagram widget on the website.
Encourage users to share more UGC and use social media aggregator platforms like Taggbox to start adding Instagram widgets for websites. These platforms include many features like customization and moderation to not only display authentic content in a perfect manner but also showcase only premium content.
You can also use the feature UGC Uploader – A CTA or QR to allow your visitors to leave their thoughts on the website conveniently.
Start Using Instagram Reels for Brand Awareness
Instagram Reels is a new feature that allows users to create short, engaging video content. You can use Reels to showcase your products and build brand awareness. Share behind-the-scenes looks at your products or team, or create fun and educational content related to your industry.
Research Your Hashtags to Increase Your Reach
Hashtags are a great way to increase your reach on Instagram. Research popular hashtags in your industry and use them in your posts to reach a larger audience. You can also create your own branded hashtag to encourage your followers to tag you in their posts.
Write Strong Captions With Calls-to-Action (CTAs)
Captions are an important part of your Instagram posts. Write captions that engage your audience and include calls-to-action (CTAs) such as "swipe up to shop" or "click the link in bio to learn more."
Create a Profitable Link in Bio CTA
The link in your bio is essential for directing traffic to your website. Make sure to include a clear and compelling call-to-action (CTA) in your bio, such as "Shop now" or "Learn more."
Instagram Live is a great way to engage with your followers in real-time. Use Instagram Live to showcase your products, answer questions, and give your followers an inside look at your brand.
Incorporate Storytelling With Instagram Stories
Instagram Stories are a great way to tell your brand's story and showcase your products. Use eye-catching graphics and animations to draw attention to your products and make them more appealing to your audience.
Direct messages (DMs) are a great way to connect with your followers and make sales. Respond to DMs in a timely manner and offer helpful information about your products. You can also use DMs to upsell or cross-sell products to your existing customers.
Make Your Instagram Posts Shoppable
Instagram offers shoppable posts, which allow you to tag products in your posts and make it easy for customers to purchase them directly from your Instagram account. Make sure to take advantage of this feature to increase sales and make the purchasing process more seamless for your customers.
Conclusion
Instagram has become an opportunity hub for businesses and entrepreneurs looking to make a splash in social media selling. By utilizing these strategies, you now have the tools to tap into the massive potential of the platform and reach your target audience with ease.
From showcasing your products with Instagram Reels to making sales directly through shoppable posts, the possibilities for growth and success on Instagram are endless. So what are you waiting for? Get ready to make your mark and unleash the power of Instagram for your business!