The Best Productivity Apps & Programs of 2017
Mobile technology has experienced a wave of innovation over the last decade. The processing power of today's modern mobile devices matches that of the supercomputers of the nineties, which required operating spaces the size of basketball courts. We have all grown accustomed to our devices becoming part of our daily lives. With each passing day, more tech firms release new apps that help to shape the way we communicate and access data online.
However, there are thousands of apps available that promise to deliver results and most of them fall short of expectations. Taking the time to wade through countless applications to find one that saves time may seem like a silly thing to do. We have taken the effort out of the process for you, here are five apps that will help you increase your productivity and that of your team as well. Give them a try and judge for yourself.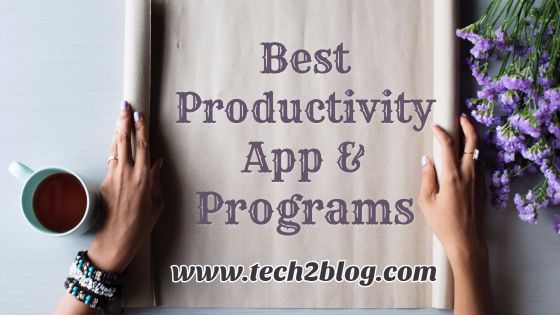 #1 Capture Your Ideas with Evernote
Capture your thoughts and memos on the go with Evernote. Never let an idea escape your mind again, you can use this app to record notes, pictures, and sketches. Evernote links to the loud, freeing storage space on your mobile device and automatically syncs with all of your other devices, allowing you to pick up the idea and work on it later at a convenient time.
#2 Full Mobile PDF Suite with Soda
Finally, there is now a complete PDF solution available for your mobile device that doesn't take up all of your memory. Soda PDF has developed the world's first fully functional PDF suite that includes Document Language for Recognition and other advanced tools that you would not normally be able to use on a mobile PDF platform. Soda has changed the way your process and share the worlds most used document type.
#3 Keep it together with Time Tracker
Time Tracker lets you keep an eye on your online activities. With all the distractions available online, it's easy to get lost visiting sites that have no productive purpose to them. With Time Tracker you receive a breakdown of all of the sites you've visited and the time spent there, allowing you to alter your browsing behavior.
#4 Read it Later with Pocket
Keep your favorite media pieces available with Pocket. Pocket is a cloud service that lets you save any media you are consuming with the click of an icon. Pocket stores the item in your document list where it can be pulled up later for further review at your leisure.
#5 Collaborate with Basecamp
Do you need an all-in-one project management tool for you and your team? Basecamp has surprising functionality for a free collaboration tool. Manage your projects and your communities with notifications and alerts of any new progress or changes to your project. Create to-do-lists and check off the progress as you achieve your goals.
Basecamp keeps your team aware of the ongoing status of a project at all times by increasing their productivity and communications.
The Final Thought
An app is only as good as the user that applies it. Take the time to work through the interface and functionality of these five apps. Most of them have a user-friendly interface and are easy to navigate. If you get stuck, email their support service line and get them to help you out. Do let us know which productivity apps you are using in 2017.