7 Websites to Create Free Blog
I know you are reading this article because you are fascinated by blogging and want to become a blogger. You must have heard success stories of many bloggers and their huge earnings per month from your friends and other bloggers and want to start your own blog. If you are thinking of starting your first blog and don't have enough money and experience then this article is definitely for you. I have collected some of the free blogging websites, where you can start your blog absolutely at no cost.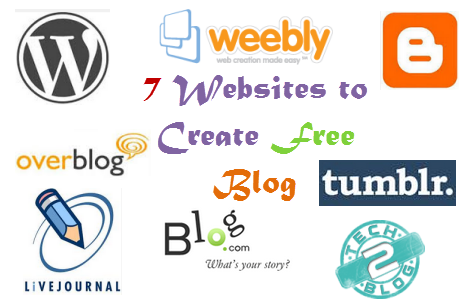 There are many websites that provide free blog creation facilities and whichever may be your reason you can start blogging right away. Though there are some restrictions on these websites they are very good to enter the blogging world. You cannot use these websites to create coupon code like Couponduniya, Nordstrom Promo Code, etc. and online shopping websites for now.
7 Websites to Create Free Blog
1. WordPress.com: This is a very well know platform for starting your first blog/website for free. WordPress.com is used by many bloggers worldwide for personal and business use. The signup process is very simple, you just have to choose your domain name and provide your email address and choose a password that's it.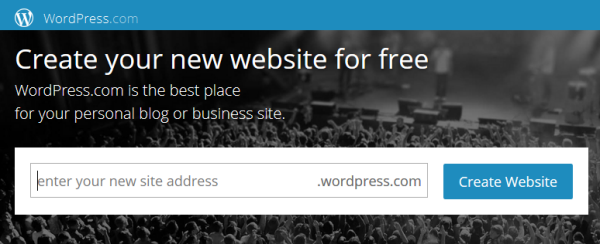 The main problem in choosing a free blog at wordpress.com is that, you will get their extension in your domain name like yourblog.wordpress.com. To solve this you can buy premium domain extensions like .COM, .NET, .IN, .UK, .ORG etc. for per month cost which is a little high.
Recommended Article: Hostgator Plan for Bloggers
Free version of WordPress.com also not allows you to add extra plugins and also you cannot edit the theme code to add some extra codes. Though you have the option to add widgets.
2. Blogger.com: This platform is by Google and is one of the most used blogging platforms around the world. Many new bloggers are using blogspot to start their first blog as this is reliable and fast.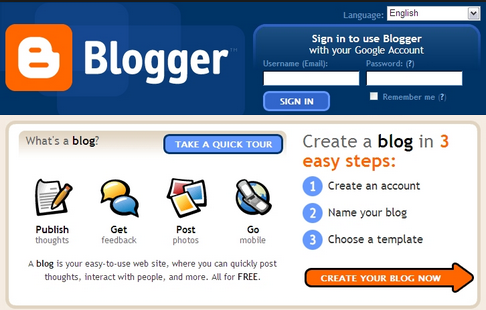 Like wordpress.com, here also you will get a blogger extension for a free domain which is blogspot and your domain can look like yourdomain.blogspot.com.
The main benefit of using blogger.com is that you can buy your own domain from another service provider and can setup that custom domain name in blogger.com, so it very cheap to start your own professional looking blog.
Recommended Article: Best Blogging Books from ProBloggers
The Blogger.com signup process is very simple, you just have to sign-on using your Google account with the same password and then choose your blog/website name. You can also easily monetize this platform.
Note: Always follow Google and Blogger policy otherwise your blog may get deleted.
3. Tumblr.com: This is also a good platform to give words to your voice. Sign up process is simple and easy. The main feature of this blog is that you can easily follow other bloggers and can get their post updates. This is just a general-purpose blog platform and if you are thinking to monetize your blog then ignore it. You can use the above blogging platform.
4. Over-Blog.com: This is another option to start your free blog and enter to the blogosphere. If you are not getting your desired free domain anywhere else you can start blogging here. This is also a good place to get good articles as per your interest and you can choose your favorite blog as per the category.
You can also earn through this blogging platform with their revenue-sharing model. If you have good traffic to your blog, you can enable monetization option and can get a royalty every month. Over-Blog.com has a good blogger base and you should really try them.

5. Livejournal.com: This is just a blogging platform where you can share your views and write articles which interest you. LiveJournal is a very old blogging platform and a trusted one. You can opt for a free account and can start writing your journal.
Setting a new account is very simple like other blogging platforms and you can create a new account in just 2 steps. This is one of the very professional blogging platform.
6. Blog.com: This is another free blogging platform to create your website or blog which gives you many features same as a blogger and WordPress. Sign up process of blog.com is also very easy and in few steps you will have your own blog URL.

You will get a domain name as your.blog.com which is easy to remember and tell your friends. Blog.com also include some premium feature like monetization, adding your own domain name, premium themes, etc. but you have to pay some money for that. That is why I think few bloggers are using their platforms nowadays.
7. Weebly: Last but not least, Weebly is also a well know platform to create free websites and blogs. You can create any type of website using this website and it has many awesome features too. Blog creation is very easy with their drag and drops feature and their variety of themes gives your blog a new professional look.
If you have got tired of another blogging platforms, give a chance to this blogging platform. The registration process is very simple and many blogs and websites are born through Weebly daily.
---
Hope you like our article on a free platform for creating blogs and websites and would surely share it with your friends. There are many other platforms to create free personal and business blogs but I don't think you need more. If you have any problem or need suggestions don't hesitate to contact us using our Facebook page, Google+ or email. You can also subscribe to Tech2Blog.com by Email to get free blogging tips on your inbox.