Parallel Desktop 19 for Mac: New Features
Parallel Desktop 19, the latest version of the popular virtualization software for Mac, has just been released with some exciting new features that make running Windows applications and games more seamless than ever on your Mac.
As a long-time Parallel Desktop user myself, I'm impressed with the improvements and want to share an overview of what this new version brings for those considering upgrading or trying it out for the first time.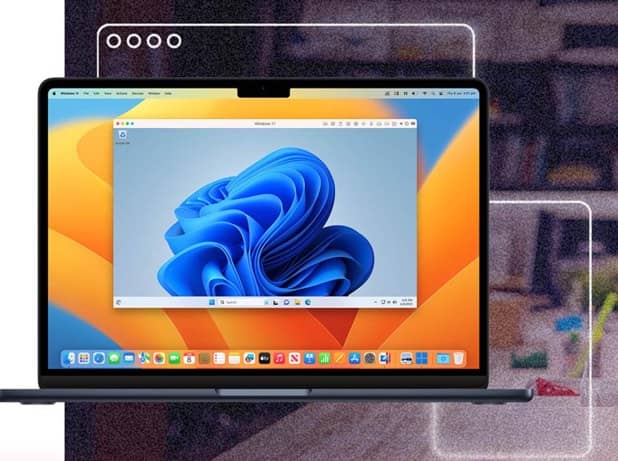 Table of Contents
New Features of Parallel Desktop 19
Ready for macOS Sonoma
Parallels Desktop 19 has been tailored to work seamlessly with macOS Sonoma, delivering improved printing capabilities via the Internet Printing Protocol (IPP). This optimization ensures a more immersive experience for users running macOS virtual machines on Mac computers equipped with Apple silicon, resulting in enhanced shared printing functionality on these devices.
Performance and Optimization
First and foremost, Parallel Desktop 19 has been optimized to provide up to 25% faster DirectX 11 graphics performance compared to the previous version. This translates to noticeably smoother gameplay and improved frames per second when running graphics-intensive Windows games or apps on your Mac. The virtual machine performance has also been improved across the board for things like disk operations, memory usage, and overall responsiveness.
The new version also supports ARM-based apps for the first time, allowing you to run an even wider range of Windows software on Macs with Apple silicon like the latest M2 chips. It leverages Rosetta 2 translation technology to make this possible.
Easy Windows 11 Experience
With Windows 11 being the latest operating system from Microsoft, Parallel Desktop 19 ensures you can setup and run a virtual Windows 11 machine with minimal effort.
It offers a streamlined path to get a license activated, perform all updates, and install applications. This makes trying out Windows 11 hassle-free.
Expanded Features for Enterprise Users
IT professionals and enterprise users will appreciate expanded support for unified endpoint management solutions like VMware Workspace ONE and Microsoft Endpoint Manager. These tools can now manage Parallel Desktop virtual machines using the native agents. There are also improvements around joining Active Directory domains.
Seamless Integration: Drag and drop
As always, a core strength of Parallel Desktop is its seamless integration with macOS for a unified desktop experience. Version 19 builds on this with faster auto-adjusting resolutions when resizing Windows apps and improved webcam support.
Copy and paste between Mac and Windows is smoother than ever. You can directly drag and drop from a Mac to a Windows virtual machine. The unified menu bar also lets you run Office 365 on Windows while easily keeping Mac menus.
More Reasons to Upgrade
Other noteworthy changes include support for more languages, improved accessibility features like VoiceOver and keyboard navigation, and better support for Retina/high-DPI displays. There are also under-the-hood improvements for things like virtual networking and support for new Apple silicon chips down the road.
Price of Parallel Desktop 19
If you rely on running your favorite Windows apps or games on a Mac, Parallel Desktop 19 appears to be a worthwhile upgrade. Its Standard edition is available for $99.99/yr. If you want to run virtual machines with more resources, you can use the Business edition, which costs $149.99/yr.
In between there is also one more edition called Pro, which gives you cost savings and the option to use higher resources at only $199/yr.
Discounted upgrade pricing is also available for existing customers. Given the more seamless experience and performance gains, especially for Windows 11 and graphics, power users should check out the new version.
For anyone who has considered using virtualization to access Windows environments and software on a Mac, Parallel Desktop remains a leading solution. Version 19 makes the experience smoother and expands support to new types of apps and hardware.
With Apple silicon Macs especially, being able to run ARM-based apps opens the door to new possibilities. Overall, Parallel Desktop 19 appears to deliver improvements while still providing the best Windows-on-Mac experience.