Internet Download Manager (IDM) Review and Giveaway
Downloading has been a very frequent activity for internet users and almost every day we download something or other. Downloading and managing our downloads is a very essential task and should be taken care of. Internet download manager (IDM) is a downloading tool which has these facilities and we are going to review it today and also give free licenses/keys of IDM for winners of our giveaway.
This tool will not only speed up our downloads but will also effectively manage them.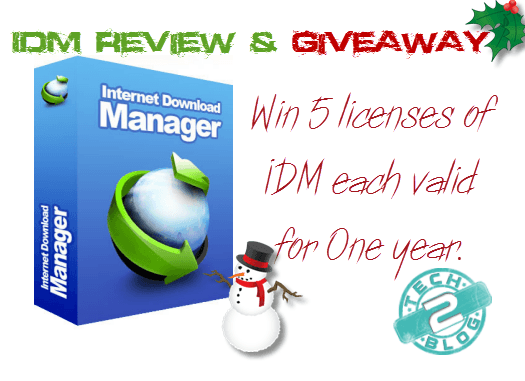 Features of Internet Download Manager (IDM)
1. One click download.
2. Supports all popular browsers.
3. Speed Acceleration.
4. Video grabber.
5. Download Resume.
6. Download Categories.
7. Built-in Scheduler.
8. Download limits.
9. Automatic Antivirus checking.
and much more……..
IDM is an award-winning download manager from Tonec Inc. and has grabbed many awards till now. This awesome software is fully loaded with facilities that will help you in boosting your download speed and effectively manage your downloads. IDM downloads the data in chunks through 8 parallel channels and thus provides maximum speed. Though there is also an option to set the download limit through speed limiter option while downloading.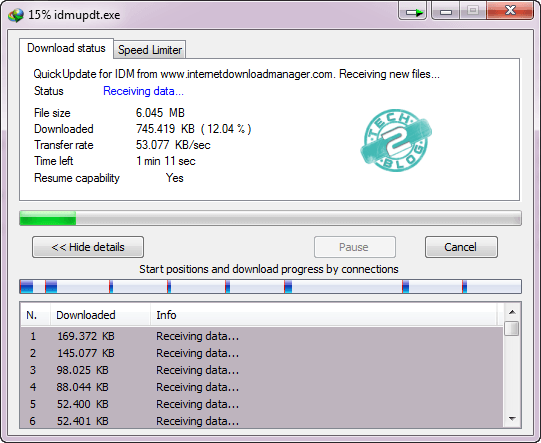 There are many features in IDM as stated above but my favorite feature of the "Internet download manager" is its capability to resume the downloads. If you are using inbuilt download manager of Windows then you don't get this facility and I think it is one of the most needed features and requirement.
There are some instances when you have to pause your download or due to poor internet connection your download has stopped.
But if you are using IDM you don't have to worry and you can begin your download from the point it has stopped, so it saves a lot of time and bandwidth too.
Recommended Article: How to Remove Image Border from Genesis Theme
The other good noticeable feature of IDM is video grabber and scheduler option. With the video grabber option, you can download any type of video directly from your browser as it supports all the latest and old version of internet browsers.
The scheduler option gives you full control to schedule your downloads and perform specific tasks after the download completes. If you are doing some urgent work right now and want to schedule your downloads after some time or during your sleeping time, you can easily set the timer and can also specify the date and day.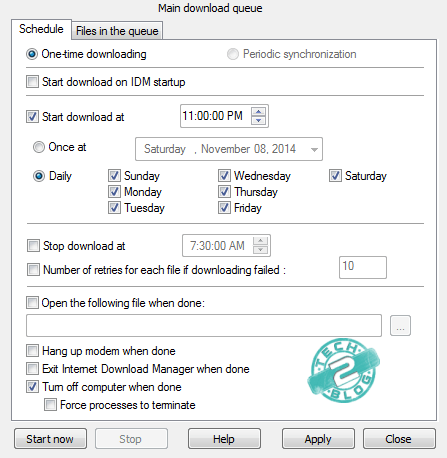 You can also specify certain tasks after your download completes like hanging up the modem, exiting IDM, or even shutdown the computer when your downloads are completed.
Categorizing your downloads according to the type of file can also be possible with IDM. You can choose a different folder for different types of downloads and may ask IDM to remember your selection. You can also drag your downloaded file directly from IDM to any folder of your choice.
The above features are just the starters and if you use the Internet download manager (IDM) then you will know the actual benefits of it. I am not saying just go and buy IDM right away. Just try and then buy.
Price of Internet Download Manager (IDM)
The price of the Internet download manager (IDM) is very nominal and you can purchase it for a price of $29.95. From time to time they also have special offers and you can also get additional discount on this price.
Internet Download Manager (IDM) Giveaway
The Internet download manager is the perfect software for downloading and is a must-have software for everyone. If you are not having this awesome piece of software till now, do not worry as you can get this awesome software for free through our latest IDM giveaway.
Currently, we are giving 5 licenses of the Internet download manager (IDM) software for free which are valid for 1 year and cost total $150 approx. During this one-year time period and you can enjoy full functioning internet download manager with updates to all new versions on one computer and can achieve maximum download performance.
There is no IDM usage limitation that existed in the trial version with prioritized technical support.
Taking part in our giveaways is really very simple and for this IDM giveaway, you just have to perform simple steps to be part of this though some task are mandatory this time. The more you share and perform the task daily, the more are your chances to win this awesome software.
Note: Any false means of taking part in this giveaway can result in banning from IDM giveaway.
---
I am sure you will be very happy to use the "Internet download manager" or must be using it. It is really awesome and must-have software. Do let us know about your experience with IDM or any suggestions if you have for its developers. Tech2Blog.com by Email to get such good software reviews and giveaways in your inbox.