11 Must Know Tips for Securing your Cryptocurrency
2017 was the year of Bitcoin. Bitcoin rose to $20,000 and attracted all sorts of investors whether small or big. As the popularity of Cryptocurrency trading is increasing day by day, the danger of cryptocurrency being stolen is also increasing at the same rate. Every crypto investor should know what precautions to be taken to secure the cryptocurrency. In this article, we will discuss how you can protect or secure your cryptocurrencies by just adhering to simple tips.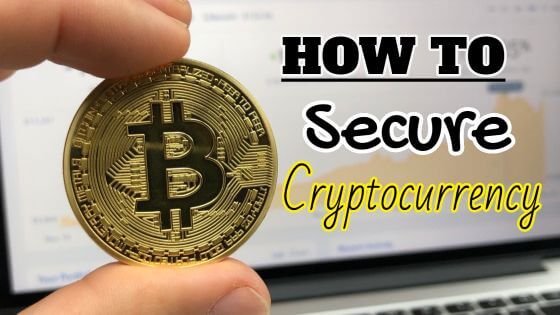 How to Secure your Cryptocurrency
1. 2FA & Strong Password
Once you have created your account in cryptocurrency exchange, it is very important to secure it. You should use a strong password to secure your account and most importantly you should enable "2 Factor Authentication". The two most trusted 2FA applications are Google Authenticator & Authy.
2. Hardware & Software Wallets
If you have a good amount of cryptocurrency, it is a good idea to move your digital asset to hardware and software-based wallets. This will save your crypto from hacking and will give you extra security. Exodus & Ledger Nano are one such example of software and hardware wallet respectively.
Also, most of the crypto coins have their own software wallet which you can download to your PC and can then transfer your coins to that application.
3. Using different Password for Every Cryptocurrency exchange
We have the habit of using the same email account and the same password for every account we create on the internet. I would say we should refrain ourselves from doing so. While creating an account in cryptocurrency exchanges, always use a different password, if you are not able to use a different email.
Your same password for every account is like a master key to every account, so think about it.
4. Use Good Antivirus & Malware Protection Program
Using a good antivirus and malware protection program is very vital for your PC security and also helps in browsing the internet very securely. Use programs that can monitor your internet traffic and can block unwanted threats.
Malwarebytes is one such good anti-malware program.
5. Do not store all Cryptocurrency in one wallet or exchange
The statement is pretty clear, never keep all your eggs in one basket. Always keep your cryptocurrency like Bitcoins, Ethereum, Ripple, Verge, etc. in multiple exchanges. There had been many instances when crypto trading exchanges have been hacked and million dollars cryptocurrency has been stolen.
6. Do not send Cryptocurrency to an unknown address to participate in some Giveaways
As the craze for cryptocurrency has increased tremendously, so as the scammers. Scammers are now posing as other people and asking to send cryptocurrency like Bitcoin, Litecoin, etc. in their wallet in order to take participate in a giveaway.
Please note all such posts are scams, do not send anything to these accounts.
7. Enable Email & Mobile alerts for any transactions
It is very crucial to get an update for every activity which happens on your wallet or exchange. So always enable all the notifications, so that you can get an alert if there is any transaction in your account.
8. Install crypto related plugins with caution
Don't install any third-party plugin to mine the cryptocurrency from your PC or laptop, because most of them are scams and can also steal your browsing data and password, so beware.
9. Don't Use Public Wi-Fi
Public Wi-Fi's are not secure and if you are using your laptop or mobile phone to trade cryptocurrency, then you should not use the same device for accessing the internet through public WiFi. There have been many incidences where people have got hacked and lost their valuable data and money
10. Have Backups
Backups are always essential, so always have a backup of your security keys, backup codes for your emails and 2FA. In case you reinstall your OS or reset your phone, then you can always restore your cryptocurrency wallet from backups.
11. Phishing Emails & SMS
Don't ever get trapped in phishing and scam emails. Nowadays, people are sending phishing emails far more than in the past. So do not click on any such emails. Rather if you want to check, directly go to the website and check.
Bonus Tip: If you are frequently accessing the exchange website, it is always a good idea to bookmark them. Sometimes it could happen that you land on some phishing site and lose access to your account.
---
I hope you like the article and will follow the tips provided in this article to secure your cryptocurrency. In case you have any other useful tips, please share them with us through your comments and email. Also do not forget to subscribe to our channel and share this article on social networking websites.