Google Keep – All you want to know
Google has finally come up with its new note application called Keep. It is a note taking application where you can quickly save your notes, to-do list and ideas on the go. Google announced this service on 20th March 2013 through its official Google blog. Let me tell you that Google reader is retiring soon, so maybe Google has launched this new product in its replacement.
Features of Google Keep
Google Keep is a free service.
User can write notes, list things using color codes.
Can be used through Google drive web application or Android application.
All notes are synced to all devices and are stored in Google drive.
User can upload voice note and photos.
Google keep is only available for Android devices running Android 4.0, Ice Cream Sandwich and above.
As per Google Engineer Katherine Kuan, Google Keep can quickly jot your ideas down when you think of them and even include checklists and photos to keep track of what's important to you.
Recommended Post: Host Website in Google Drive for free
Google Keep is a similar note application like Evernote and OneNote and will give tough competition to them as this is the product from Google, so people are more likely to use it. But at present we cannot say about its reliability and availability, as in the past Google has retired many of its services like Google Docs and now Google reader. But I am sure this won't be the case for Google Keep.
Above is the short video of Google Keep promo, which tells you brief about its services and features. User of Google Keep can write their notes in this service either by using Google drive or its Android application, which is available for free in Google play. All notes are saved in Google drive and are synced to all your devices, which you can access anytime anywhere.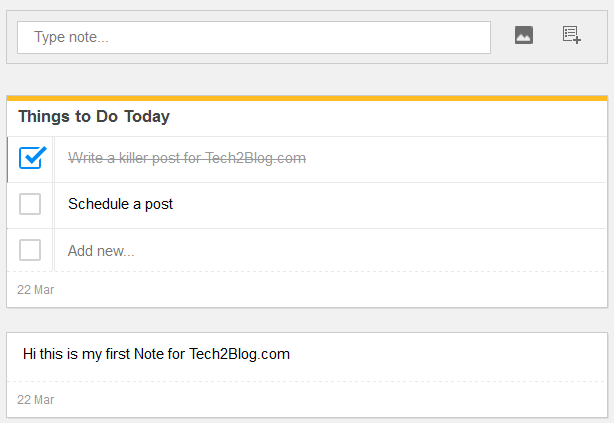 Above images shows an example of Google Keep through the web interface, where we have written one simple note and one list. The notes can also be quickly converted into a checklist by adding checkboxes. It is a very light application for your Android device and will consume less RAM and space.
---
I hope you will like this service very much as it is very friendly and easy to use. If you are currently using Evernote or any other similar note application or service, I will advise you to try Google Keep also. You will be happy to know that in coming weeks, you can also directly use this service through your Google drive. Also please share your experience through your comments and email's. You can also Subscribe to Tech2Blog.com by Email to get free alerts on your Inbox.