Jutoh Review: Ultimate eBook Publishing Tool
Are you thinking to publish your own eBook? If your answer is yes, then this is the article for you. If you are an author, writer, blogger, etc. and want to publish your own eBook without outsourcing then Jutoh is surely gonna help you. Jutoh is an ultimate eBook publishing tool, which I am going to review.

An electronic book or eBook is a book in digital form and with the increase in use of Smartphones eBook readers is also increasing.
As per Wikipedia, there is an increase of eBook reading by 28% in the US itself in 2014 as compared to 2013. And if you are an author or writer, having one or more number of books in your name and haven't release electronic format of your book, then you are seriously loosing business and readers.
Publishing an eBook is not a rocket science as it looks, though formatting, editing and writing itself can take time. If you are finally thinking to self publish your eBook in different formats and looking for free eBook publishing software, then you may have disappointment seeing the results.
If you are serious about your eBook publishing, I will recommend you to use Jutoh, which is a one stop for all your eBook publishing needs, though it will cost you some bucks.
I am not saying this just to promote Jutoh, I am personally using it and found it very useful for publishing eBooks for different device with ease.
Features & Benefits of Jutoh
Easy to use and install
Can create eBooks in Epub and Kindle formats
Multiple format export
HTML, text, DOCX, ODT, and Epub import
Table and text box support
Quick preview facility
Cover designer
Configurable eBook launching
Backup Facility
Create unlimited eBooks
Jutoh is written in C++, so it's fast
Multi-platform eBook publishing software
Jutoh is a multi-purpose eBook publishing software which allows to create an eBook from scratch. It will help you to easily create eBooks in different formats like Epub, kindle etc. and can publish it to Amazon's Kindle, Apple's iBooks, Google Play, Kobo, and more.
With Jutoh, publishing an eBook is very easy, you just have to browse your word document in the project and you are good to go. You can even create an eBook from scratch with this tool and start writing directly. But I would recommend you write in Microsoft word and then import it in Jutoh from my personal experience.
Like other eBook publishing tools, Jutoh is not subscription-based software and there is no per-book cost. If you have purchased it, you can publish unlimited eBooks with it. It is one time investment.
Jutoh comes in 2 versions viz. Jutoh edition and Jutoh Plus. Jutoh plus is little costlier than edition version and is enhanced version. Jutoh plus is a good buy if you want scripting and HTML templates support and it's also good for businesses, who wants to automate eBook production or add custom code.
Jutoh is a cross platform tool and works well with Windows, Mac, Linux, Raspberry Pi and FreeBSD without any issue and only with one license. You can even try it in Google Chrome notebooks. And if you use Raspberry Pi 2, you are lucky as Jutoh 2 is free for it. It has been built and tested on Raspbian.
See below how easy it is to create eBook on Jutoh for different formats.
How to Create eBook Project on Jutoh
i) After installing Jutoh, open it and press "Ctrl+N" for new project. You can also go to file and click new project.
You will see the below window, here fill eBook name, author name, description, etc. and click on next.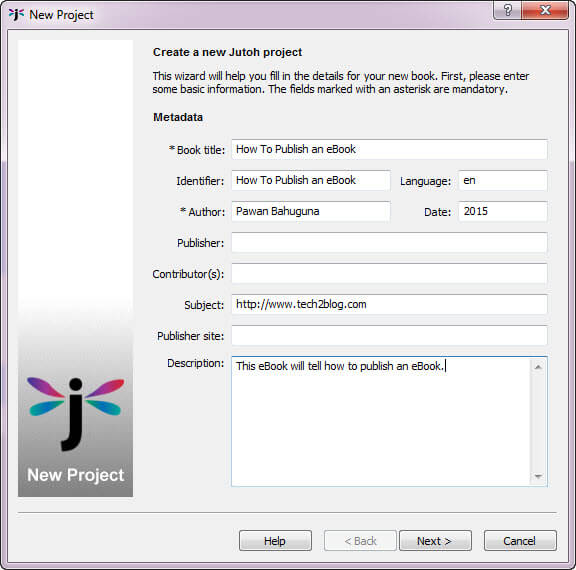 ii) Now in 2nd screen, you will see an option to choose the location of your project and eBook formats in which you want to produce your eBook. If you have planned to post this book in many different platforms, then choose all formats.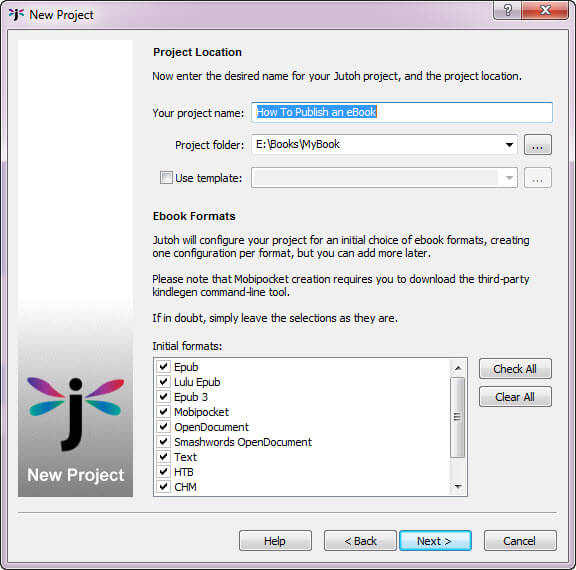 iii) Now in the next two steps, you can choose your eBook layout and import options. You can select, if you want to make fixed size eBook or normal eBook for novel, biography, etc.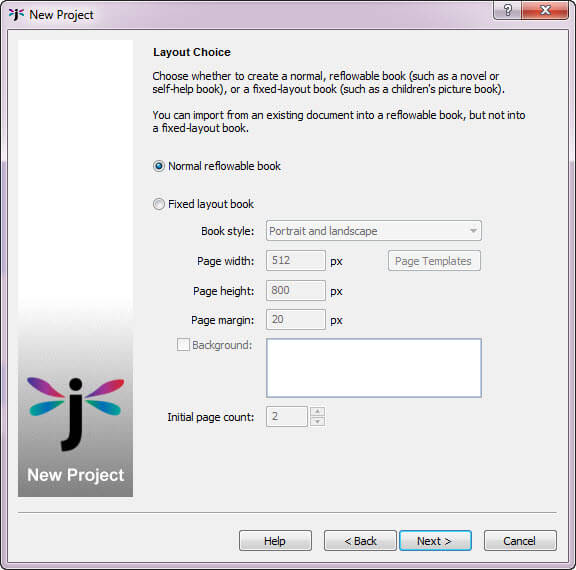 Using import option you can easily tell this awesome ePublishing tool what type of images to import and even can resize the imported images. There are lot more option in this scree as shown.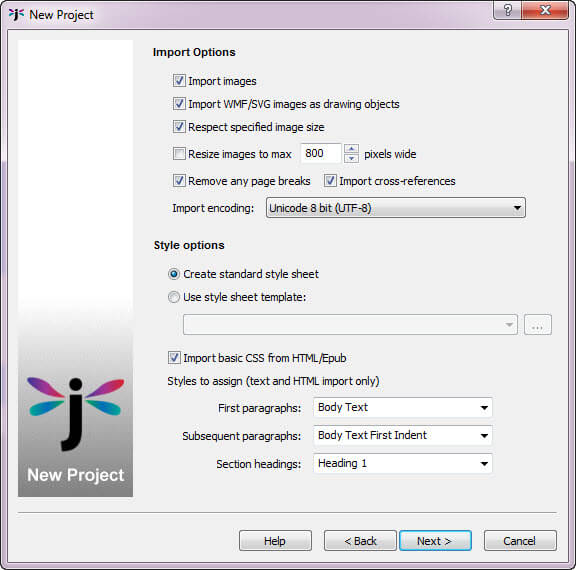 iv) After you have done above steps, now just choose your word document if you want to build your book from DOC or you can also start eBook project from scratch.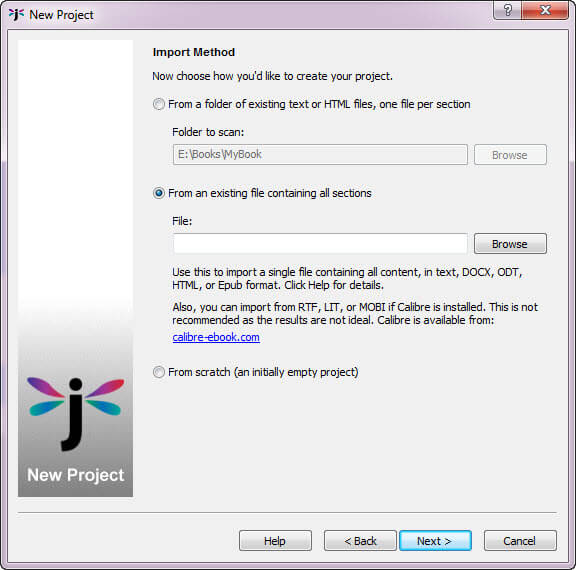 v) Now in this step, it's time to choose your eBook cover. You can choose from some defaults one or can also create your own.
vi) Once your cover is ready, click on finish and you will see your eBook work space. At this place you can do all your editing, formatting, creating table of content, adding new pages to book, etc.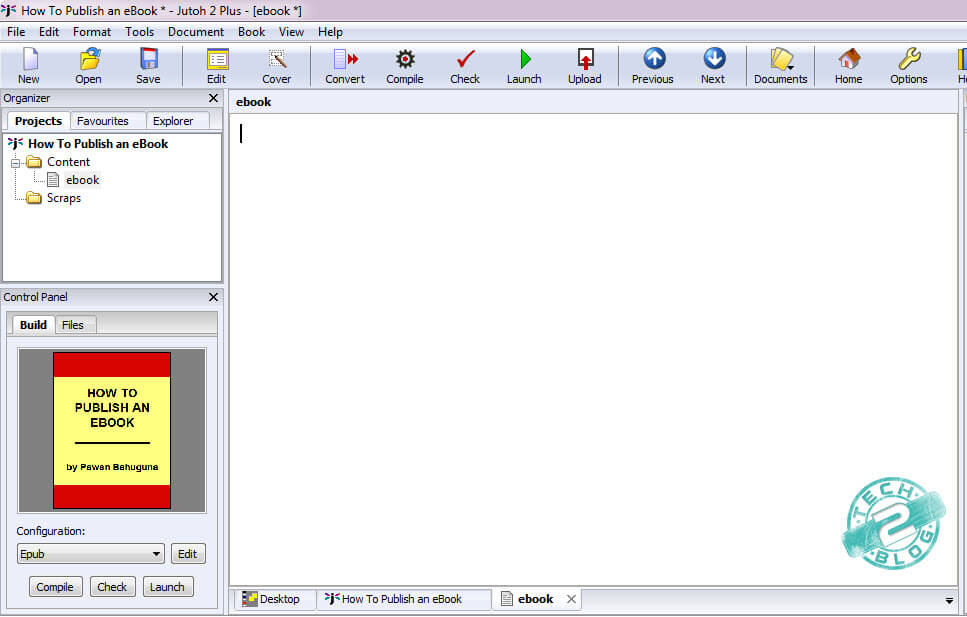 Once you are finished with your eBook you can click on compile and then can click on launch to view it in different format.
Note: For viewing your eBook, you must have 3rd party tool installed, like to check kindle eBook you should have kindle reader in your Laptop/desktop.
There are many other options and feature of this eBook publishing software and if you want to know more you can comment below or can check Jutoh demo.
Price of Jutoh and Discount Coupon
Jutoh edition will cost you $39 and Jutoh Plus has a price of $80. Though the price is not so big for this awesome eBook publishing tool, but I will recommend you to use its Demo version first. The demo is also full function software, but it will have Jutoh trademark and is also limited to 20 documents.
For our readers, we have got an exclusive 30% discount. You just have to use coupon code "tech2blog" on buy page and you will get discount on Jutoh.
Support of Jutoh
If you worried about support of Jutoh then keep it aside as they have best support. I am sure you won't have to go to their support system as they have already built very good tutorial for you and they explain everything.
But if you still need any support from them or users using Jutoh, then you have all the information on their support page.
Watch below video to see this awesome tool in action. In this video we have created a demo eBook for Kindle. Do check and let us know your comments and feedback.
---
Jutoh is one of the best eBook publishing software and you must try it. I tried it's plus version and was able to produce an eBook on different formats easily from my word document or by directly writing on Jutoh. Do try and let me know about it. If you love the tool, do not forget to share it with your friends.