Amazon Influencer Program: Earn As A Social Media Influencer
After the Amazon affiliate program, Amazon has started Amazon Influencer Program in India. With the help of this program, social media influencers can recommend products to their followers and can earn money online. Let's see what exactly Amazon Influencer Program is and how to join it.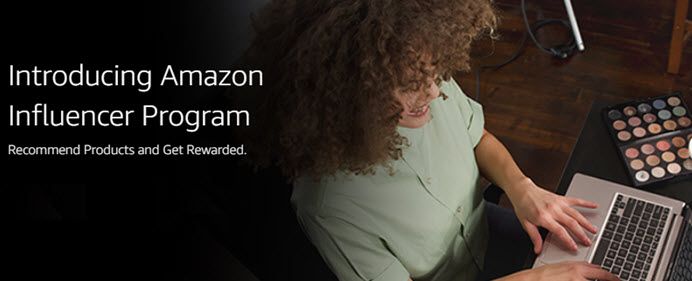 What is Amazon Influencer Program?
Basically, this is also an affiliate program from Amazon but it focuses mainly on social media influencers and allows them to recommend products and earn commissions on qualifying Amazon items they promote through their channels.
Influencers can create their own page on Amazon and receive a short, personalized 'vanity URL' – ideal for sharing – linked to their own storefront on Amazon, where they can curate lists of their favorite products.
How does the Amazon Influencer Program Work?
With the help of this program, approved social media influencers get their own page on Amazon with an exclusive vanity URL to show the products they use and recommend to followers.
Influencers, thus can promote their URL, and make it easier for their followers to shop and earn money on qualifying purchases while doing it!
It is basically, similar life Amazon Associates Program, the only difference is that in "Amazon Influencer Program", influencer gets a dedicated URL of their own to showcase the products.
Criteria For Amazon Influencer Program
Though the numbers are not clear that how much followers Amazon want to get qualified for this program, but as of now, they are considering factors like audience size, engagement metrics, relevancy of content and topics.
Currently, they are allowing social media platforms such as YouTube, Instagram, Twitter, or Facebook. Just to try, we tried to link the Twitter account with this program having only 1.5k followers and we were not approved by this program.
So, seems they will only allow social media influencers who are having a good amount of followers, reach and engagement.
How to Join Amazon Influencer Program?
If you have an existing Amazon Associates account, you can use the same account to register for the Influencer program.
If you don't have an Associate account, you can create a new one while joining the program.
No, you can use your existing Associates account and store ID to register for the additional benefits of the Influencer Program.
After clicking the above link, you will see the different social media option to join this influencer program as shown below.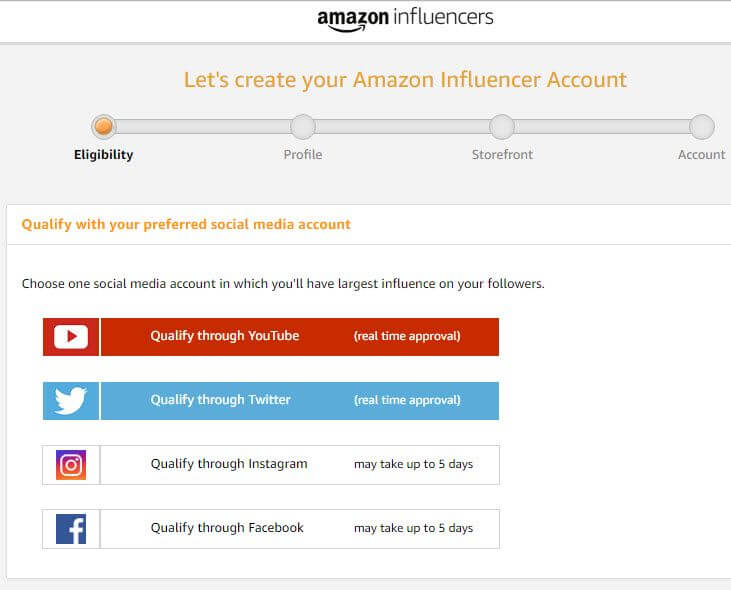 You can choose as per you and I will advice you to choose the social media account which has good fan following, engagement and influence.
Twitter and YouTube have real time approval mechanism and for Instagram & Facebook, it can take up to 5 days for the approval.
For Twitter & YouTube channel, if your channel does not qualify, it will reject also in real time. 🙂
---
Please let us know what do you think about 'Amazon Influencer Program' and how it can benefit the influencers who are already promoting Amazon products through its affiliate program.
If you looking for more resources on this program, please consider subscribing to our free newsletter or follow us on social media channels for more update.