Expert Graphic Designer at Affordable Price | $5 FREE Coupon
Are you looking to outsource your graphic designing work? Are you looking for a cheap freelance graphic designer who can do you graphic designing work at an affordable price? If the answer is YES, then do read this article completely as we are going to tell you about PixelClerks.com and you will also get a chance to try this platform for FREE (Will give $5 Coupon for free).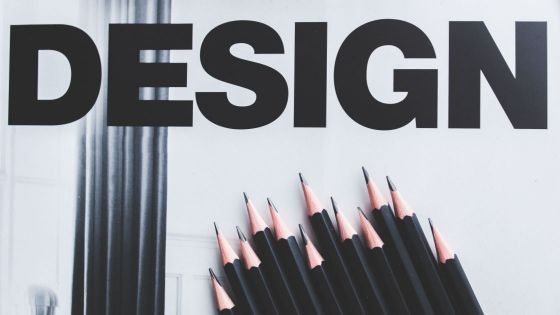 Features & Benefits of PixelClerks
User friendly platform.
Same account for buying and selling graphics services.
Ability to create job for specific task.
Easy to hire freelancer online for a specific graphic designing task.
Services available at affordable prices.
Easy payments to affiliates and sellers.
If you are working in online marketing, advertising, SEM, SMM or media industry, it is quite obvious that you will require graphic designing service, maybe to order a logo for your website or a Facebook page or even a design for your new business card.
Whatever is your designing requirement, you can use PixelClerks for it. You can choose from already posted services or you can create your own custom job and can also set the custom price for that order.
How To Order your First Graphic Design
Now, once you have created your account and got FREE $5 coupon from me (Keep reading for details), you just have to look for your desired service or freelancer.
Login to the website and you will see few of the service listed by default. Now, you can use different filters to find your desired service. You can also filter by price from low-to-high and high-to-low. There are also other options to sort the services. Just explore the portal.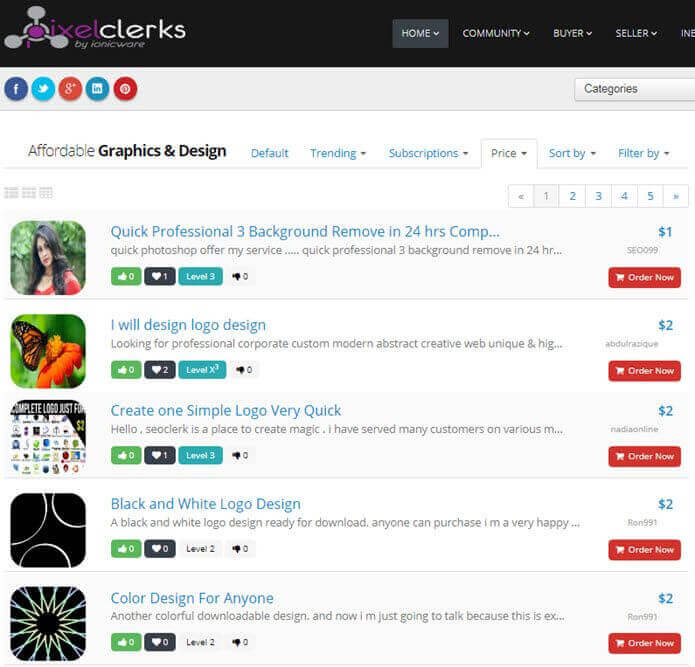 Now, once you have selected your desired service, just click on it, read the description and requirements and click on "Order Now" button. That's it.
How to Earn Money through PixelClerks
If you are a graphic designer and want to work as a freelancer, you can use this platform to sell your services and can earn money online genuinely.
There are many categories under which you can post your services like Animation, Banner Ads, Book covers, Business cards, Flyers & Posters, Logo Design, Cartoons, T-Shirts & Graphic design to name a few.
Selling your services is very easy through this portal, just in a few clicks, you are good to post your Ad. I have posted a screenshot below which shows how to create a post to sell your graphic designing service.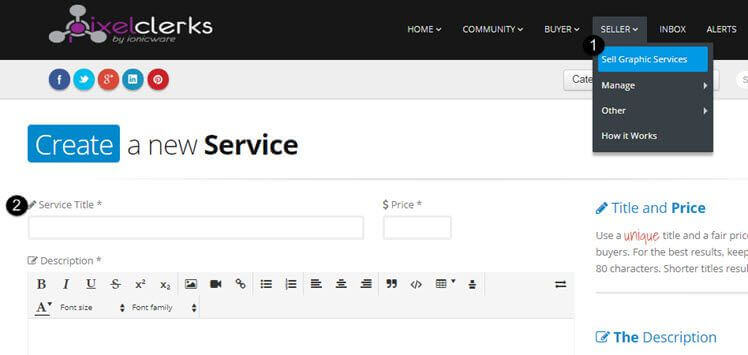 Note: If you have a customer who wants to try your service, you can ask them to signup using our link and contact me for $5 coupon code.
Want to Order Graphic Designing Service for FREE?
If you are looking to hire a freelance graphic designer online and really want to try their services (upto $5) free of cost, we have a deal for you.
As my loyal reader, I am giving $5 free coupon to everyone who will join using below link. You just have to register through my link, like this article on social media or follow our page on any social media like Facebook, Twitter, Instagram and let me know your email ID through which you register, so that we can confirm and send the $5 coupon code to that email.
Also, a user must meet the below requirements before they can redeem a coupon:
* Must have a verified email.
* Must add a phone number to their account.
* Must be new (10 days or less).
* Cannot have duplicate accounts (which will also get the accounts banned).
* Must not be using any type of proxy service or VPN when redeeming.
Tip: Verify your phone number and accept text deals, which will give you more chance to earn free coupons directly from Pixelclerks website.
You can use this account of PixelClerks to login to any website of this network like seoclerk.com, listingdock.com, codeclerks.com, wordclerks.com which provides different services. These websites also provide a variety of services at the cheap rate.
In case you need, their Coupon code, just email us and we can guide you further.
---
In PixelClerks, you don't need any academic qualifications to become a graphic designer, you just need designing skills and passion to work. And also to purchase any service, you just need the account which is very simple to make.
Hope you have found this article helpful and now you can hire a freelance graphic designer very easily at an affordable price or can sell your designing services for cash. If you like this article, don't forget to spread the word about it in your network and do subscribe to our blog for more such awesome articles.