DesignCap Is an Online Visual Design Tool-Let Your Charts Dazzle
Anyone who manages websites or social platforms will know that an article or post with beautiful pictures will be more attractive than an article or post without any pictures, and will attract more readers. So do you know how to do a design that matches our article or post quickly?
Here, I recommend a tool that can help you create almost any picture design and apply it to social media posts and website articles. This is DesignCap, an online visual design tool-let your diagrams shine.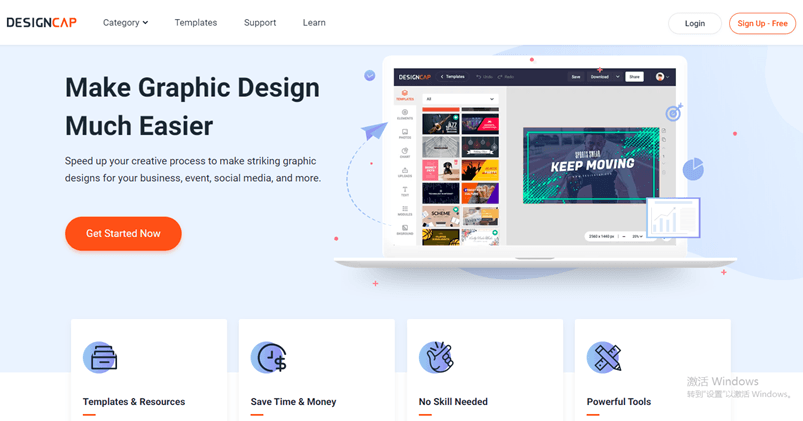 Introduction to DesignCap
DesignCap is an excellent free design tool that provides users with various templates and various design elements, icons, charts, modules, etc. In addition, the website also allows users to upload pictures from the local folder of the computer to create their designs, such as YouTube channel pictures, presentations, various report designs, invitations, and other designs. With its friendly user interface and flexible editing tools, you can easily customize your own design in just a few minutes.
Today, I will show you the detailed process of DesignCap icon information production in this article.
Three steps to chart design
To create infographics on DesignCap, you must have a web browser. DesignCap is fully compatible with standard browsers. For a better and happy experience, please use Google Chrome 14.0 or higher, Internet Explorer 10.0 or higher, Firefox 10.0 or higher, and Safari 7.0 or higher.
Step 1. Choose to create an infographic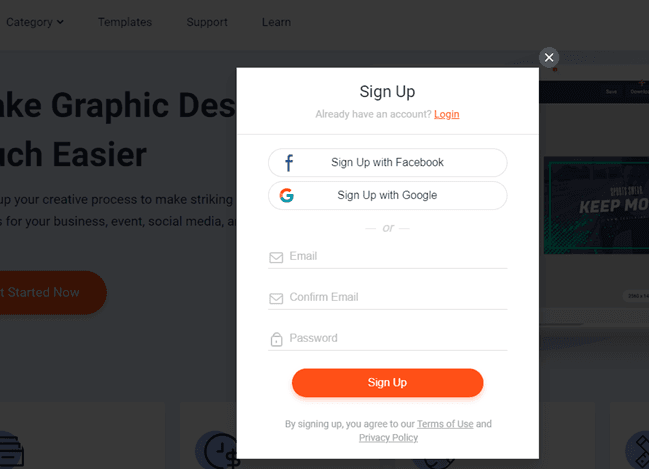 Open the DesignCap website and register for an account to use its cloud functions. You can log in to your account directly with your Google account or Facebook account. Then click the "Start" button to enter its template section.
Select "Chart" or the theme style template you need to continue. Choose a template to edit.
Step 2. Customized design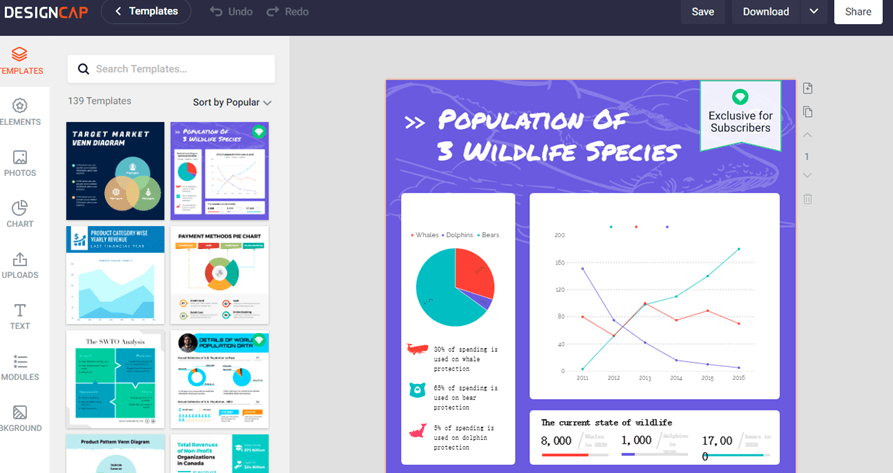 To make your infographic design unique and closely related to your article, please add your text, pictures, data, and other content to improve it. DesignCap provides you with several options to customize your creation. They can be seen on the left side of the canvas: elements, photos (online and offline images), diagrams, text, modules, and backgrounds.
These tools are usually easy to use, depending on your creativity. Select the desired object, and the corresponding tool will be displayed at the top of the canvas. Click on the specific function you want to apply and make changes. Drag and drop or click to complete the entire process efficiently.
Here, I want to introduce the chart function in detail. This is an essential part of the infographic. DesignCap's chat function is very powerful and practical. For example, in a dynamic map, you can search for a country or region to find a map and use it in the design.
In addition, you can manually change the information. For some other types of charts, you can import data from XLS, XLSX, CSV files. If you have more data to insert into the chart, it will be very convenient and quick.
Step 3. Save and share
After creating the chart, please click the "Save" button above and save it in your account for future editing. Then download it as JPN, PNG, PDF, PPTX (PPTX format is only used for presentations).
DesignCap also allows you to use the generated URL to share infographics directly on social media platforms or websites. Printing options can also be found in the DesignCap tool.
DesignCap outstanding features
It provides numerous templates for presentations, social media, infographics, etc.
Millions of image resources and all are free resources
A database of millions of icons
It contains many other resources, such as charts, preset text styles, modules, etc.
Powerful features allow you to customize your design at will
It is effortless to use even for design beginners
Start your design
If you are also working on a blog or social media page, you must create designs such as interactive charts, photo graphics, etc., and embed them in your posts to attract more readers. DesignCap will help you get a great design in simple steps without any learning curve. Hurry up to design: https://www.designcap.com/infographic/
DesignCap is the perfect choice for creating digital infographics without having in-depth knowledge in the field. Even those who use it for the first time have no difficulty achieving what they want. No need to spend long sessions there to understand how this or that tool works.