SendPulse: The All Rounder Email Marketing Platform
Marketing is one of the crucial aspects of any growing business or entrepreneurship. There are different ways in which business can promote itself and can reach to its customers or users. Today, we are going to talk about one useful marketing tool "SendPulse", which offers bulk email, bulk SMS messages and web push notifications.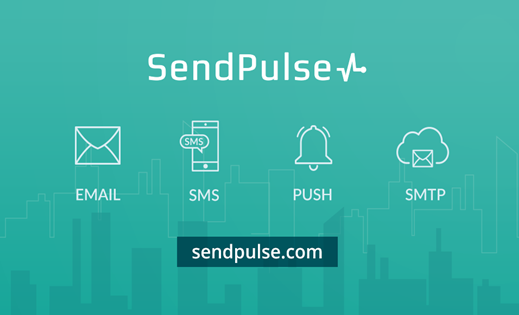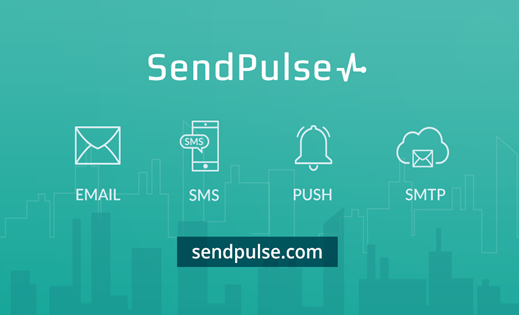 What is SendPulse?
In simple terms, SendPulse is a marketing tool through which you can to send bulk email, bulk SMS, and web push notification through a single platform.
All these 3 offerings can be used in combination for effective marketing.
Now, let's see what are the important features of SendPulse and discuss them in detail.
Features of SendPulse
Email marketing, send email upto 2500 subscribers for FREE.
Unlimited Free web push notifications.
Event-based emails.
Easy drag and drop email editor.
Allows to send bulk SMS.
Marketing automation.
Increase conversion through A/B testing.
Fast email delivery with high inboxing rates.
Customer support 7 days a week by live chat, phone and email.
As you have read about some its vital features, let discuss some of these in detail.
Email Marketing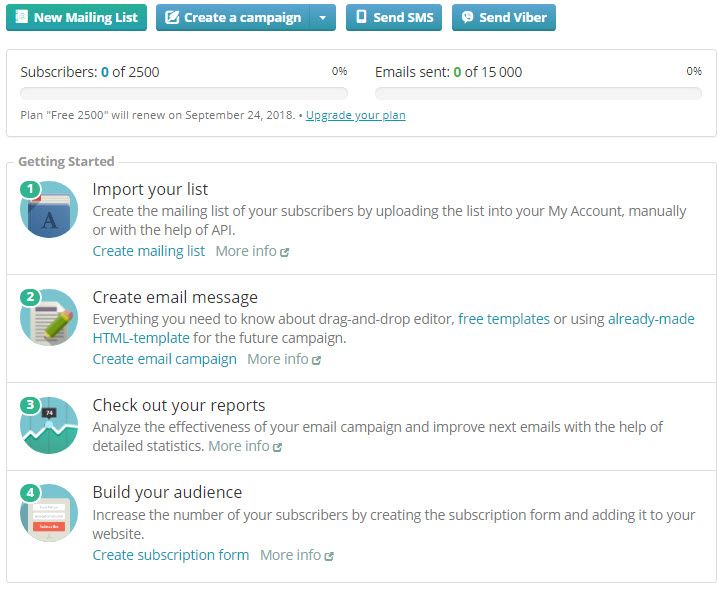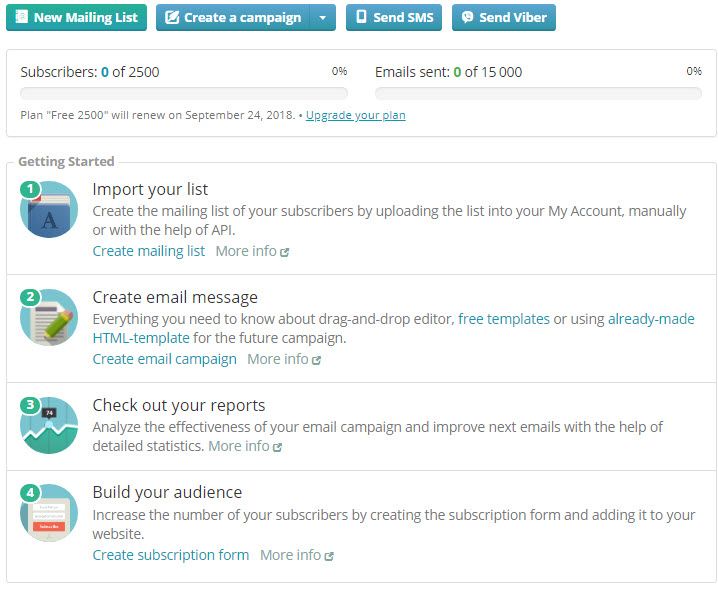 Email marketing is one of the very common ways to reach out to your customers and subscribers. If done correctly, email marketing can really boost your sales and traffic.
SendPulse allows you to send bulk emails with the help of a campaign. Just upload your subscriber's email address and create an email campaign and you are ready to roll.
With SendPulse, you can send emails to 2500 subscribers for FREE (up to 15000 emails in total) monthly, whereas, if you talk about similar service provider "mailchimp", it only allows emails to 2000 subscriber (Up to 12,000 email per month).
Email Templates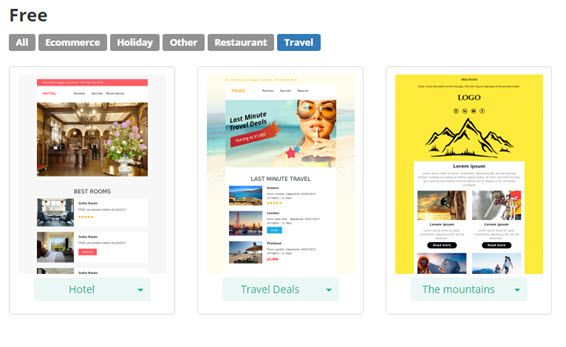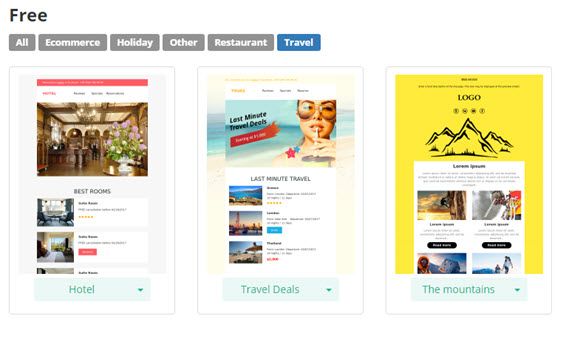 With SendPulse, you also get free email templates for your marketing campaign. You just have to choose from freely available templates and change the text and you are ready to send eye-catching email to your customer.
You can choose email templates from categories such as eCommerce, Holiday, Restaurant, and Travel. There are also some other general templates available for you.
Web Push Notifications
Web push notifications are another great way to send a quick message to the customers whether it is about some exciting news about a new product, company event or a new blog entry, you can quickly inform the customer through message directly on his browser.
SendPulse allows its users to send web notifications which work in all the popular web browsers irrespective of a laptop or a Smartphone. Your users, just have to allow notification on the browser and customers are ready to receive web push notifications.
They have also introduced a new innovative service called "Web push automations" which set an automation flow for new subscribers or create automatic messages based on RSS feeds.
One intriguing fact about SendPulse web push notification services is that it gives you a $5 bonus every month if you get at least one new subscriber every month.
Automation 360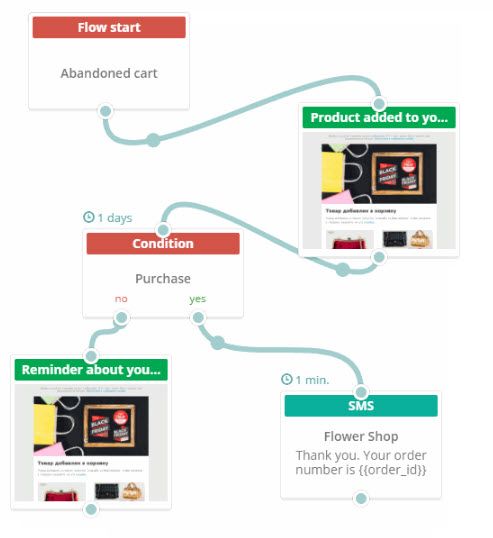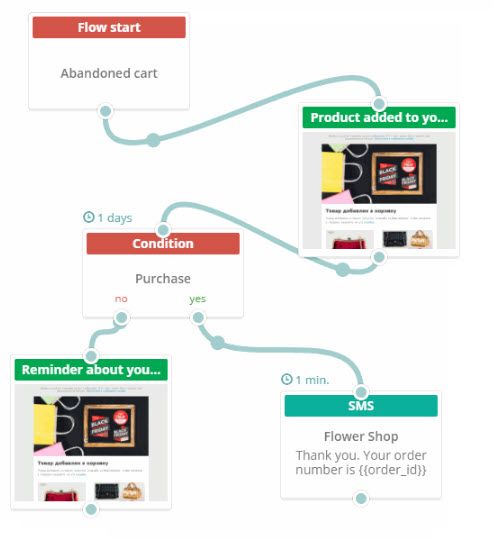 Triggered emails is one of another unique feature of SendPulse which completely separates it from other email marketing services available today on the internet.
Using this feature, you can create a simple email autoresponder or email driven by specific events or based on user actions. It is the best way to send emails to your users.
Just for an example, you can send your customer a reminder about the product they added to their cart but for some reasons have not finished the checkout process.
A/B Testing
Split-testing or A/B testing is an experiment which helps you in choosing best email campaigns. This depends upon the number of factors like users opening your emails, clicking the link, etc. can attract more subscribers.
SendPulse allows you to create A/B test in which your entire list of e-mail addresses is divided and then some of your email subscribers will receive 2 different version of the emails which helps in deciding the winner email campaign.
SMS
SendPulse can also be used to send SMS to your customer effectively and affordably. It can be for your product, for any recent purchase or just raise brand awareness. You can use any sender name depending upon your campaign (Sender IDs need to be pre-approved for some countries) and can also personalize the SMS as per user detail.
Do try this service and increase your customer communication level.
---
Hope this article has helped you to know more about SendPulse and its unique features. They have several plans as per your needs, so do try them and if you are not ready just go with the FREE plan which allows you to send 15k email to 2500 contacts for free.
Do let us know what are your views on SendPulse and if you are already using their platform what feature or service you like the most. For more such article, do subscribe to our blog.