When Running a Business Feels Like a Sprint: How to Keep Up
The business world is fast-paced and seemingly never stops moving. People often want things faster and faster, without compromising on the quality of the service or product they receive. But keeping up with the fast pace of business can be difficult. There's only so much you can do within a given amount of time. Even if you set strict time targets for your business, you need to provide your staff with techniques they can use to reach them. If you want to pick up your business's pace to keep up with competitors or what your customers want, you can consider using a number of methods.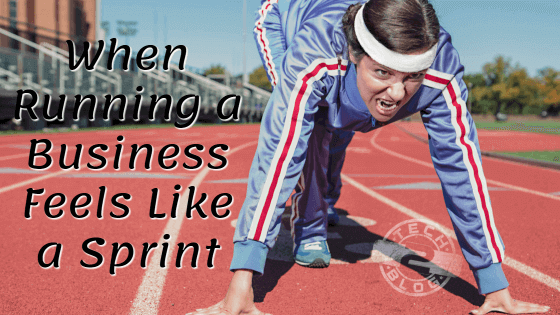 Integrated Cloud Applications
Automating certain tasks is one way you can save time and speed things up for your business. Cloud technology can help you to do that, especially if you can integrate different applications with each other. For example, what if you can link up your online ordering system, your inventory software, and your accounting application? When someone buys something, it can update your inventory and your accounts simultaneously.
Of course, you might also need procedures to ensure the updated information is checked for accuracy. But you can still save time as this won't have to be done with every transaction.
Disaster Recovery Services
When the business world is moving quickly, you definitely don't want to be at a stand still. Experiencing downtime for your IT system can be horrendous when you're trying to get things done. It's an inconvenience for you and your customers, and it could lead to data loss too.
If you want to avoid any trouble, you can use disaster recovery to quickly protect your business during work hours. It will enable you to keep working, with minimal disruption causing issues for your company. The right service can have your system back up and running almost immediately.
Operate as a 24-hour Business
If you operate a global business, there is one issue you might experience. When it's time for the office to pack up and go home, you might feel like you're missing out on business. You won't be there for people on the other side of the world who might just be starting their work day as you finish yours.
You could contemplate operating a 24-hour business, which could work in a few ways. Hiring people in other countries or night staff can allow you to be there for your customers at any time of the day or night.
Innovate to Solve Your Problems
Keeping up with changes in the business world requires you to be able to think on your feet. Sometimes you will come across a problem that you can't find an existing solution for. Being able to think innovatively and come up with an answer on your own could give you an edge on your competitors. Knowing what your customers want and the best ways to deliver it to them is crucial.
You need to be switched on if you want to keep up in the business world. Don't let your business lag behind.
---
Let us know if you have any feedback about this article through your comments and email. And do not forget to subscribe to our website.