Benefits of Online Learning: Why are people switching to eLearning?
The industrial landscape is continuously evolving and becoming even more competitive. This can be attributed to persistent technological advancements and innovations. Learning has become even more crucial in today's market not only to survive but strive. While the conventional methods of learning have challenges of accessibility, flexibility and additional overhead costs in terms of time and resources, enterprises both large scale and SMBs are exploring the e-learning solutions avenue. Though e-learning is relatively a new concept, it is rapidly gaining ground as the ultimate choice for knowledge management purposes for a majority of businesses.
No matter if you are a pro or a novice, here are the things you should know before making your decision to adopt a learning management system.
A learning management system (LMS) is a software or application that comprises a server and a user interface. It is the essential catalyst that drives the entire concept of online learning or e-learning. The server is primarily responsible for creating courses, uploading course-related materials online, managing and delivering courses in a seamless manner and other user management functions such as automated registration, periodic notifications to the learners, etc. On the other hand, the user interface is essentially aimed for administration purposes and for the learners and the instructors to view the courses online.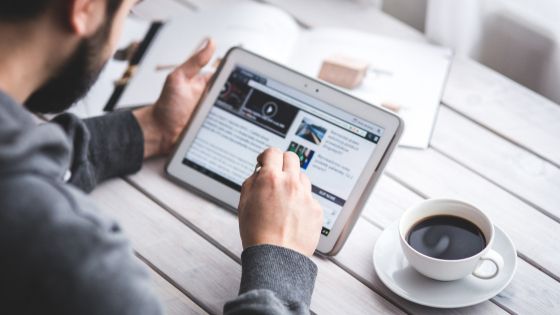 Now that we understand what is online learning as well as the advantages of the internet in education, let's have a walk through the major benefits of online learning.
Multi-pronged Solution
Businesses are evolving rapidly and so are their ways of operation. The introduction of new technologies demands the workforce to be equally skilled and adept to meet and cater to the existing, and upcoming demand. This gives rise to a multi-faceted L & D requirement for businesses aiming to stay competitive. An LMS essentially gears up organizations with a one-stop solution for all their L & D needs by offering a secure, centralized location on the cloud for storing all of their course-related resources. With LMSs, online study has been redefined. Now, employees can access the course content anytime, anywhere with just an internet-enabled device, and authorized login credentials. This eventually eliminates the need for physical data storage and evades data security challenges.
Learning Process Optimization
eLearning online assists organizations to keep a tab on the learning curve, progress and performance of individual learners in real-time. It offers robust and data-driven insights for employees to do a self-analysis, analyze their strong and weak areas by attempting online tests, This, in turn, helps the employees understand their gap areas and will open up further improvement opportunities.
Higher Employee Engagement & Productivity
Employee productivity has become an important KPI that every business is trying to attain. Scope for continuous learning opens up significant growth opportunities for individual employees that result in higher employee productivity. Boosting employee productivity and performance, in the long run, is one of the major advantages of online learning platforms. They offer leaderboard features that employ a gamification approach to enhance learner engagement. Learning management systems make it substantially easy for the employees to stay updated with the latest trends in their market landscape, learn about the best practices and guidelines that would offer them a competitive edge against their counterparts.
Cost-efficiency
The best thing about learning management systems is that they need minimal time, resources, and infrastructure. It replaces the instructor-led classroom training with a more accessible, secure, and convenient virtual learning environment. These LMSs might involve a reasonable price in terms of subscriptions; organizations have the opportunity to save a lot of other overhead costs in terms of travel, physical infrastructure, and paper-heavy documentation. Organizations enjoy the liberty to invest the budget in creating new courses and optimizing the existing ones with additional value-added features.
E-Learning platforms have a lucrative future and more and more businesses are anticipated to make the switch from conventional training to the much accessible and convenient online learning.
If you are eager to make the switch too, yet, hesitating, check out the ultimate LMS solution by AlphaLearn. Sign up today for a free trial.
This guest post is written by Carmel Isaac.
Author's Bio: "This is Carmel, a full-time professional blogger. He also loves to write on trending ideas on various topics that prove useful to one's personal and Business life."