Unlock Samsung Galaxy SII LTE
Playing around your Android device is a very good time pass and it can be very problematic if some kid starts playing with your expansive Android phone and break it or lock it. Same situation happens to me and one of my recent visitors locked my Samsung Galaxy SII LTE phone. Getting phone locked is a very common problem and even after entering the wrong pattern or wrong password, you can unlock your phone, if you have tried only a few times.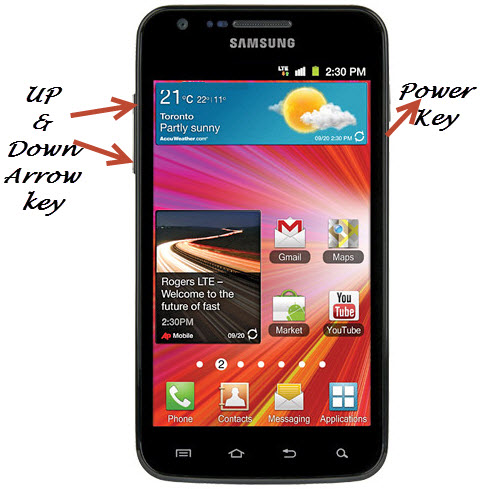 Recently my Samsung Galaxy SII phone (Model no SGH-I727R LTE) was pattern locked by one of the visitor's kid and really it was very hard to unlock it. I really tried very hard to unlock it but failed without losing my phone data. After searching lot in the internet for my model, I got few articles and videos but was not much helpful.
Recommended Article: Lock your Lost Android Device using Norton
Most of the article asked to enter your Gmail address and password as the phone was asking but it was not accepting it. May be it was due to no internet connection or I was entering wrong. I tried a few times and failed, even correct Gmail login information was not accepted by my Android phone. So finally I decided to hard reset my phone following below steps for my phone.
Prerequisite for Unlocking Samsung Galaxy S2 LTE
1. Battery should be at least 40% charge.
2. Remove SIM and Memory card.
Steps to Unlock Samsung Galaxy SII LTE
1. Switch off your phone. Note your phone must be at least 40% charge.
2. Press UP+Down arrow key (Volume keys) along with Power key. When the phone just start release all the buttons.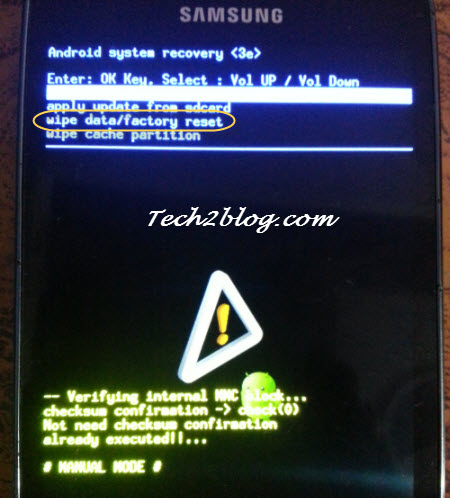 3. Now you should see Android recovery system screen as shown above. Here with the help of up/down arrow key select wipe data/factory reset and select OK key. For this phone OK key or Enter key is Home key. In some other version of this phone, you may have a physical home button.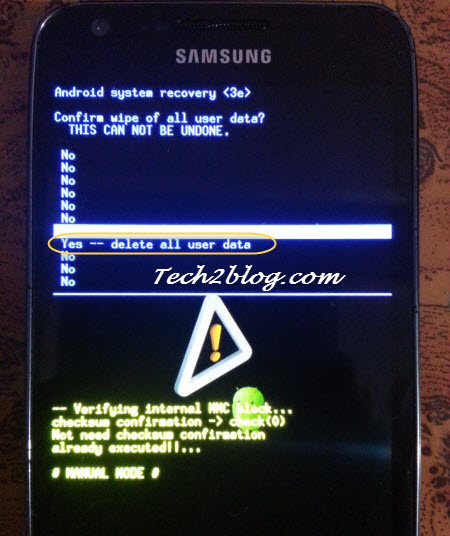 4. Now you will get confirm screen to wipe all your data, here you can see lots of NO option, select yes-delete all user data and press home key to confirm.
5. Now your phone has started processing and will wipe all your data. At this stage do not touch your phone or do anything until it restarts.
Now you will see that your phone has no lock and is hard reset with no Android application or any other phone data. This is how you can unlock your Samsung Galaxy SII LTE phone. If you are facing any issue with above steps let us know through your comments and email.
Also for more such tutorials You can also subscribe to Tech2Blog.com by Email to get free alerts on your inbox and also connect us in Google+, Facebook & Twitter.