3 Things You Can Use to Drive Sales to Your eCommerce Business This Year
Commerce has given entrepreneurs across the globe a way to sell their wares with little need for huge startup capital or a physical space. But this empowering movement has also seen a huge spike in online competition. Everyone from traditional retail giants and luxury brands to ambitious startups is using eCommerce to drive sales – so how do you stand out?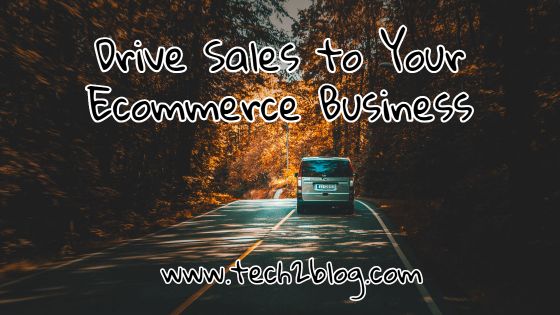 Here are 3 things that you can use to drive sales to your eCommerce platform in 2017.
Social Storefront
A few years ago, your company's Facebook page was seen as a way to have a meaningful conversation with a captive audience. Now, it is a major sales channel that you can't afford to overlook.
The concept of the social media storefront is simple, and presents business owners with two powerful options for generating eCommerce sales.
The first option is to use the page as a marketing tool. Promoting posts around specials, discount codes, and general sales info is a simple but effective way to drive traffic to your primary eCommerce sales channel.
This is a safe option, but your audience probably didn't like the page to get inundated with marketing, so apply your social media sales strategy selectively.
But social media has moved on. You can now make sales directly from your page using the Facebook Shop service, or a company like Shopify.
This means that you have another revenue stream, and the opportunity to target a different audience. Run specials and limited edition deals with a tone that suits your social media following, and you should see a sales spike.
Best of all, you can amplify awareness as sales and offers generate significant digital word of mouth buzz.
Go Offline
It sounds like a contradiction, but more brands that have made an impact in the world of online sales are operating offline, or real-world locations, to boost sales.
A prime example would be the recent launch of Amazon Go, a convenient fusion of digital simplicity with real-world retail space.
Breaking away from a purely digital space exposes you to an entirely new audience, who will return to the online platform in due course. This means that you are maximizing your market.
If you don't have the assets or numbers to launch an owned store space, consider a pop up – just to pique the public's curiosity.
Influencers
Don't underestimate the power that a great influencer can add to your campaigns.
There are many reasons why influencer marketing works, but it is mostly because people willingly follow – and trust – the people they idolize on social media.
Get a recommendation from a truly influential individual within your brand's target audience, and you will see a spike in traffic. Be warned, however, authenticity is key when you're playing in this area.
Be Bold
Driving sales, whether you use on-demand delivery, discount coupons, or random giveaways on social media, is reliant on your brand's bravery.
Use these things and get creative and you can get traction in a saturated market. If you like this article do not forget to leave your valuable comment below.