How to Start an Online Wedding Photographer's boutique
Your online presence is your 24/7 business card and could lend you a lot of gigs if you know how to appeal to the right clients. Also, you must be aware that defining a niche is the key to success and be prepared to invest in the best equipment and technical support. You can't offer a professional result cutting every corner just to save a few pennies. Since this is a visual niche, your website must inspire clients to say WOW.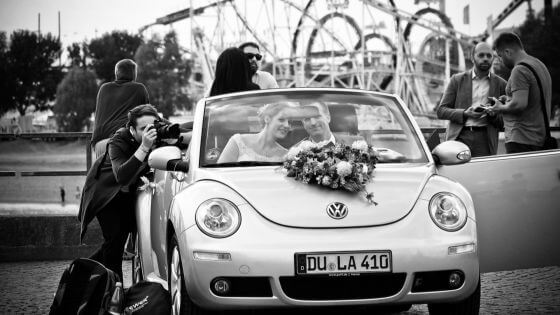 Get the right tools
A recent experiment by two professional photographers and their amateur friend proved that you don't need the most expensive gear to create great shots. Although skill is above tools, you can't have a photography business with an entry-level compact camera or just your phone. Aside from the DSLR base, you will need at least two sets of professional lenses, a set of studio lights and other accessories plus paid licenses for editing software. Adding the cost of your professionally designed website, in total, you could be looking at an investment between $3000-$5000.
If you don't have this amount just waiting to be invested, you could take into consideration the option of a Pave personal loan. This is the right options since the value is too small to be considered for a business loan and too big to take it from your credit cards, which, most likely would also mean more interest.
Design a portfolio
Gathering all your shots on a website is not a portfolio, and this is one of the most common mistakes for beginners. You need to define your niche a build a story around it. Select jobs that are very different from each other to show that you are flexible and that you can adapt your vision to the client. Nobody wants to see 20 different brides in the same place or with the same look. Don't hesitate to create categories and adequately tag your content, for SEO purposes.
You could even tell the story of the couple you are shooting and let the potential leads feel that they should be next because this is fun. Having a blog attached to your website and portfolio increases traffic and makes you look more professional and dedicated.
Create collaborations
The wedding photographer is part of a team including designers, florists, event planners, entertainers and more. Aim to create tight bonds with these other members of the big event. Be ready to do cross-advertising. It's a good idea to feature them on your website in a dedicated section and ask them for a similar featuring.
Online is a great medium, but being present offline and interacting in person with potential clients can mean the beginning of a great business.
Use social media wisely
Start with simple interaction via your profiles. Focus your visual content on Instagram and Pinterest and your advice, tips, and tricks on Facebook. Avoid posting the same content over all platforms, or you can get people bored.
To bridge the gap between online and offline, use social media as a shout-out tool. Invite people to a free lecture on the Wedding day and Trash the dress shootings. Give relevant do's and don'ts examples and encourage people to tag themselves on social media and to talk about the event to get even further reach.
In fact, don't be afraid to share a lot of freebies with your prospects. Include simple ebooks with advice on how to choose a photographer or explain your price range.
Also, keep an online calendar and post pictures related to funny days such as Champagne day, Cake day or Hug day. Encourage followers to comment or ask them questions and put them share personal photos. Get creative, for example, host a contest for '80s wedding gowns on your page and engage with the mothers of brides to be.
Of course, these are just simple ideas to get you started, but you will need a lot more once you get established, and we are talking about time management.