The Smart & Safe Home of 2017
In today's day in age, technology is a matter of constant evolution's – with regard to our homes equally as much as with any other aspect of life. In the case of home technology, as with any technological evolution's, user friendliness and consumer education are extremely important. Though home automation has been an option for some time, the year 2017 is predicted to be the breakthrough year, on in which the homeowners will gain a better understanding of the options on the market and their value, as well as how to actually incorporate these innovations into their existing homes. In 2016, 80 million smart home devices were delivered worldwide; in 2017, this number is only bound to increase.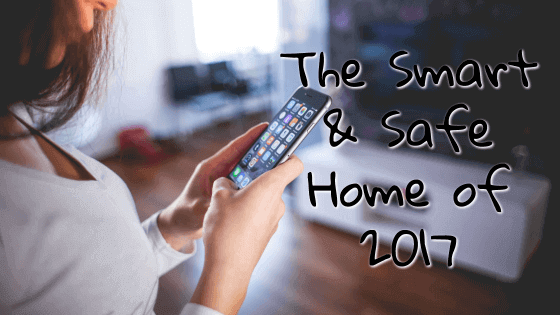 Let's explore some of the new smart home innovations that are meant to contribute to this increase.
FridgeCam
Remembering what is in your fridge, trying to come up with recipes and tracking the expiration of the food you have will be made easier with the FridgeCam. The FridgeCam sits inside your fridge and takes a photo of the food you have whenever you open and close the fridge door. With some additional manual work, you can track the food that you have. Using the app (which connects via Wi-Fi), users will have to scan the barcode of a product, or insert the product manually if it does not have one, and simply put it in the fridge. Through custom food recognition software, suggested recipes will be produced based on what you have and you will be notified when food is getting close to expiring.
The ability to track your food will help minimize the time that goes into meal planning and will help consumers significantly reduce their food waste.
Home safety via Home Security System
Most smart home technology today presents a sort of luxury; gadgets that are in many ways not necessary, but rather simplifiers aiming to make our everyday lives easier and more convenient. This is a little different when it comes to technology that ensures your home's safety and security. A smart home can also mean a safer home (thanks technology-driven home security systems). You would be able to activate the alarm system when you leave the house, which would switch off the lights and the power circuits. Furthermore, you could have even greater safety at home through greater peripheral protection and a system that, in case of an alarm, connects the lights with the alarm siren and roller shutters.
It's important to note that although most consumer decisions are made based on the gadget's scope of functionalities and it's pricing, those with regard to home security system purchases should be based on the product's quality, safety and reliability. A good example of a home security system provider that reflects these values would be ABB.
Vorwerk Thermomix Digital Kitchen
The Thermomix Digital Kitchen will transform your cooking experience in the kitchen and will require only a couple of cubic feet to do so. It can take the place of many of your other cooking appliances, enabling you to chop, heat and blend with the use of only one appliance. Depending on what you wish to cook, you can even connect to Vorwek's Cookidoo platform for a digital recipe book and use Guiding Cooking with step-by-step directions to avoid any hiccups.
Having the accessibility to create a smarter and safer home will make a big difference for homeowners across the world. The options that are on the market now are already promising, and 2017 has the potential to share even more developments.
---
If you have any feedback for this article, please let me know through your comments and email.