Pinterest Like Website without Coding in Minutes
Have you ever thought of having a social networking site? Or want to have a website that has the same function as Pinterest and also looks like the same? Want to make your own photo-sharing site? If the answer to the question is yes, then this is the article for you. SocialEngine is the website which is providing such solution for you in the form of products SocialEngine PHP & cloud and by using this software you can create a beautiful social networking website without any coding in minutes.

What is SocialEngine ?
SocialEngine is the software company which helps people in making amazing online networking websites in minutes since 2007. SocialEngine has 2 main products, viz. SE Cloud & SE PHP. SocialEngine cloud is a cloud computing service by Social Engine, where you can create your own custom social networking website in minutes without any coding and hosting.
They host your website on their servers, though you have to pay for it on a monthly basis.
SocialEngine PHP is a social networking software, which can build your online community fast on your own server or hosting account. You can download the SocialEngine PHP code and install it to your own server to start your own social networking website.
Both these products come with a trial and you can try them before buying. SE cloud has a 14 day trial period and SE PHP has 30 days trial license.
Features of SocialEngine Cloud
1. Social Networking website in minutes.
2. No coding skill required.
3. Latest features like those found on popular networking websites like Reddit, Pinterest, Twitter, and Facebook.
4. Social integrations: Allow your visitor to login with any social networking site like Twitter and Facebook.
5. Threaded comments.
6. Like & Voting feature.
7. Integrated site builder.
8. Advertising: Put Google Adsense and other ads anywhere in website with ease.
9. Moderation & approval
10. Complete HTML & CSS access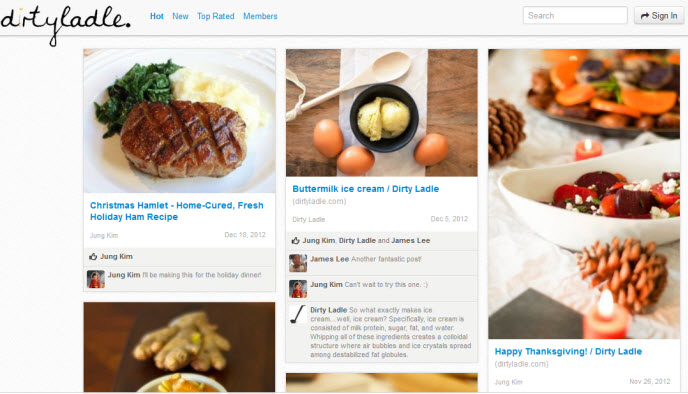 The above pictures show the demo of SocialEngine cloud and I know you would be thinking, that it looks like a Pinterest theme. If you want to explore more features of SocialEngine cloud, you can visit SocialEngine website.
Recommended Article: Verify Blogger blog on Pinterest
When I first see the demo of SocialEngine cloud, I was amazed to see that it look similar to Pinterest, with all the features and function. Anyone using SE cloud service can make their own Pinterest look-alike website in minutes.
Pricing of SocialEngine
If you just want to create your own social community on your own hosting or servers, then you can use the SocialEngine PHP product, which comes with a one-time payment of $299 for a lifetime and includes full source code and ownership to make any custom changes you want.
If you're really interested in making websites that are amazing social networking website and don't want to host to your own server, then SocialEngine Cloud is the best option for you. They have a very secure and fast server without any downtime. You can get your community started in just $39/month.
I will recommend everyone to take their trial first and then go for paid version after full satisfaction.
Note: If you want to flip your site at any point, then you can easily do it and transfer full ownership.
---
So isn't running an online community like Pinterest is easy and fast. Hope you like the SocialEngine service and would recommend it to others. You can also make Pinterest like website using WordPress Pinterest Lookalike themes. We would love to hear your views and feedback about this awesome service, so do comment and stay in touch.
SocialEngine Cloud and PHP are very unique and affordable service through which you can run your online Community quickly.
$299/Lifetime

editor rating