New PageRank 2013 Out, Tech2Blog is now PR 3 Blog
The most awaited update in the Blogging world has finally arrived and Google has finally updated the PageRank database. We are happy and excited to announce that Tech2Blog.com has grabbed PageRank 3, which is a good achievement for us. I know, we all have lost hope of PR update this year but finally Google has given Black Friday and New year gift to all the bloggers with PR roll-out.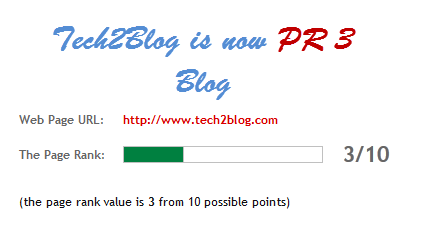 We all know that PageRank plays a very important role in website reputation, though I believe it doesn't have much effect in search engine rankings and it always feels good if we are paid for our hard work in the form of such PR updates. 🙂
Tech2Blog.com is now PR 3 Blog
You all will be glad to know that Tech2Blog.com has now PageRank of 3, earlier our page rank was zero and I was eagerly waiting for PageRank update. This was a very great movement for me that on first update only we have got PR 3.
Below are two good websites to check the PR of your website individually. So check your PageRank and let us know through the comments.
Prchecker.net
Prchecker.info
What is PageRank ?
In simple terms, PageRank is a ranking system by Google, which analyze the backlinks to your site using some algorithm.
Recommended Article: Build Backlinks using Research Strategy
To get good PageRank you should always build good quality backlinks which should be a combination of nofollow and dofollow both. And getting backlinks from high Page Rank website is always an advantage for your website. Making your own backlink building strategy is a very good practice and you should always stick to it and if it is not working then change it.
Note: Always remember posting articles regularly is the main key for successful blogs.
Hope you all have got good Pagerank for your blogs and website too. Check your PR and let me know through your comment and don't forget to mention your previous pagerank. Good luck and keep blogging.