Increase Facebook Like with Content Locker
Social networking has become one of the best ways to drive traffic to your website these days and we all know that Facebook is the No.1 social networking site, which has left behind many other social networking platform's. You must have seen many of the Facebook update on your FB wall from different pages and groups you have liked and many of those you must have visited and shared. This is how traffic was generated from Facebook wall to those website, which have thousand of Like.
If you have a website or blog which has interesting content to read but you don't have enough presence in social media and want to increase your Facebook Like, then Facebook Like – Content Locker WordPress plugin can really helpful for you. This plugin only allow user's and visitor to read your content when they press Like button and thus increasing your Facebook like with every unique read.
Recommended Reading: WordPress Plugin for Affiliate Niche Website
How Does this Plugin Work?
Facebook Like-Content Locker WordPress plugin give you the complete control due to its various settings in WP dashboard.
You can enter the post meta data like post title, post description, Like link, etc. which will appear in the Facebook post, when user Like it.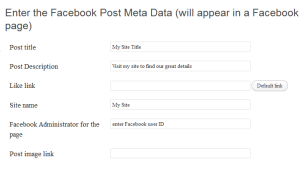 You have also given the facility to change the appearance of your Content locker such as background color, transparency color and transparency level.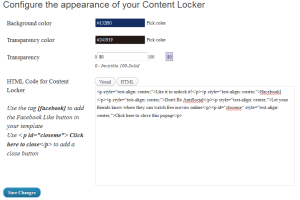 You can also set your own message to appear before unlock with HTML code for Content Locker in the setting as shown above.
This is a great plugin but you should be careful while using it, as some user can also get frustrated by seeing locked content. But those who have come to read, will surely hit Like. So enjoy with this great WordPress plugin [Content Locker] and do share your feedback for this plugin.
I will also love to read your views on this plugin and if you are using other content locker plugin, do let me know.