How to Predict PageRank (PR) of Website/Blog
In the blogging world, all bloggers are very much concern about their website/blog progress like me and one of the important factors in blog success according to me is Google PageRank (PR). Though some of the SEO gurus still believe that, today Google PageRank does not have much effect in coming top of search engine rankings (SERP) but I totally disagree as PageRank is still important from blogging and monetization point of view.
What is PageRank (PR) ?
In simple words PageRank is ranking given to your website by Google based upon its popularity, quality backlinks, frequency of posts and site optimization and it is mainly link analysis algorithm which is named after CEO of Google Larry Page.
Recommended Article: Argument in Favor of Blog Tags
After working hard on our website, we always had a curiosity to know how website will perform in search engines, what will be its next Pagerank, how well it will generate revenue etc. Though many things and parameter we can only analyze after certain time but we still have option to predict our blog/website future page rankings. Now you don't have to wait for Google for PageRank update. Though these predicted PageRank are not actual Google PageRank and only an analysis of your blog quality and quantity of backlinks.
Currently there are many PageRank checker services available online but there are only few good websites which allows you to predict your future Google page ranking. One of the best such service which I tried is SEOmastering.com Pagerank prediction tool. SEOmastering.com is an SEO forum which provides SEO services and many SEO tools for free.
This unique tool for predicting Pagerank shows real PR without any Google's reducing factors and penalties.
Predicting PageRank of Website
As mentioned above to predict your blog Google PageRank, you will have to visit the Pagerank prediction tool of SEOMastering and put your website name there as shown below.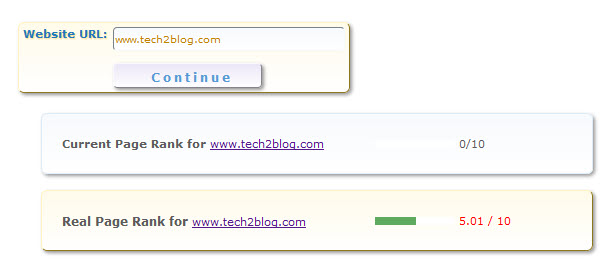 You must have seen above that Tech2Blog.com PageRank is showing 5 out of 10, which must have given you a shocking smile on your face. Don't worry this is just real PageRank based on backlinks analysis and without Google reducing factor. This tool also shows the current PageRank and also gives you the code to put a real Pagerank button on your blog.
---
Hope you have liked this PR prediction tool and will be helpful for your PageRank and SEO analysis. You can also share this tool with your friends and also share this post on Social media. We are always eager to read your comments and feedback, so do share your thoughts. Wish you a good Google Pagerank on the next PR update.