How to Make Money Online with Infolinks
Infolinks is said to be a good alternative to Google Adsense and you have good opportunity of making money with Infolinks from your home through your blog and website. In this article I will tell you, how you can use Infolinks along with other advertising network and can make good passive income online.
There are many genuine ways to make money online and online advertising is one of them. If you have made your mind and right time has come to monetize your blog/website then you have lots of options for monetizing.
Infolinks is one such online advertising platform, which help publishers earn money from their blog and in this article I will review Infolinks and will also show you payment proof of Infolinks to get you started right away !
What is Infolinks?
Infolinks is an online advertising platform which started in 2007 and since then, they are offering various advertising products for publishers, advertisers and brands.
Infolinks uses In3 (Infolinks Intent Intelligence) to analyze text on websites and inserts relevant adverts in the text.
Infolinks has headquarter in Palo Alto, CA with an R&D Center in Tel Aviv, Israel and offices in New York, Chicago and Buenos Aires.
Infolinks Benefits
Passive revenue stream.
30X users engagement.
100% fill rate with smart ad units.
Premium advertisers.
Additional source of income.
Timely Payments.
Variety of Ads option.
Infolinks Products
Infolinks started with "In Text" based advertising, but now has added many other advertising options to maximize the revenue. Currently it is having 4 types of advertising solutions which can be used to monetize your blog.
1. InFrame: These types of ads are integrated on left and right side of your website in form of towers and use unused screen frames to monetize your website with relevant banner ads. Try if you are not using the full width website layout.
2. InFold: These are a good way to monetize your search results. When a visitor comes to your website through search engines, then they are shown relevant ads popping from the footer.
3. InTag: When activated, this will generate a range of keywords that are relevant to the content of your website. You can assume them similar to Google Ad links.
Just hover the mouse over any keyword tag and ad will be displayed.
4. InText: This is the oldest and my favorite method to monetize my blog. This ad unit does not require any additional space and will underline the best keywords to monetize your written content. A simple hover of a mouse opens an ad bubble containing an ad matched in the context of your keywords.
You can try all above products at demo page.
Note: You can use more than one product at a time to optimize your site for maximum earnings.
Signup & Integration
Signup process of Infolinks.com is very simple and fast. You can simply join with your website URL and Facebook account or through your email. Even approvals are easy and there are no tough rules to crack.
Once you are application is approved, you can start adding your websites and blogs and can add unique code your website.
Infolinks code integration is very easy and you can do it automatically using a plugin or manually by inserting code yourself to your theme HTML code. The steps are very simple and you can check this tutorial by Infolinks which teaches how to integrate script to your website like a PRO.
If you have any issue in integration of Infolinks script, do let me know.
Infolinks Referral Program
Infolinks has also recently introduced referral program, where you can refer anyone to this advertising program and in-return you get 10% cut of their revenue. This doesn't mean your referral will get 10% less from their earnings.
With this referral program you can earn 10% of their revenue for 12 months.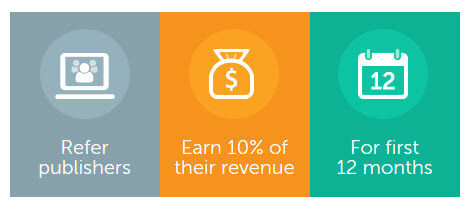 Even if you are not making enough money from Infolinks, it may happen that your referral may earn good commission and which will get you 10% commission of their revenue which is not bad. So join Infolinks now using my referral link and ask me additional tips which will help you in making money online with Infolinks.
Infolinks Payout
I am sure you must be looking for this heading. While we read any post for making money online, the payment screenshots or cheques always give additional inspiration to work hard on that.
I have been using Infolinks for many years now and their payment is always on time. The payment threshold is $50, once your account reach that threshold the payment is made on a net 45 days basis. Though I have always received payment earlier than that. 🙂
If you don't reach the payment threshold, don't worry, your earnings will be added to the following month's earnings in your account balance. Below is the screenshot of my first payment of 2010 and my latest payment (2015).
Note: In above image, I have highlighted the withdrawal fees of Payoneer, which was reverted by them.
Publishers can receive their payments via PayPal, Bank Wire, eCheck, Western Union, ACH (only for U.S. bank accounts) or Payoneer.
I have been using PayPal for many years to receive Infolinks payment, but now I have switched to Payoneer (Know Why?).
---
That's all from my side, if you have doubts or question in your mind about Infolinks, please don't hesitate to ask me or their team. Hope you have a successful relationship with them and you make good money online using their advertising platform.
Don't forget to share about Infolinks and this article with your friends and social network.
Infolinks is one of the genuine program from which you can make money online using your blog and website. It is a must try advertising platform for all.