How To Install & Test Google AdSense Page-level ads
Google AdSense time to time introduce new types of ad units for publisher to generate more revenue and this time they have come up with "page-level ads". So today we will know what are different types of "page-level ads", how you can configure for your blog & website and how to test them.
As per latest Google Adsense blog update, "Page-level ads" is a family of ad formats that offer a new and innovative way to help you earn money from your mobile content.
Basically, this new ads are for mobile devices which will give the user better control over ads and good experience. These ads are automatically shown at the right time and in the right format on the web pages, you have placed the ad code.
Benefits of Adsense Page-level Ads
Optimized Ads
One-time set-up
Additional ads on your site apart from traditional AdSense ads.
Control to enable and disable ads
Check out this quick video about Google Adsense Page-level ads.
Enabling Google AdSense Page-level ads
To use these new types of ads on your mobile website, you first need to enable them. Enabling page-level ads is very easy and can be done through your Google AdSense account. Right now there is a pop-up in every Adsense account with the heading "Introducing Page-level ads", just click on "Test it out" and you will see an option to enable the ads and get the required code to install on your website.
If you do not see any pop-up, go to "My Ads" and on the left side you can see "Page-level ads Beta" option, just click it.
As shown above, just click on the enable button for activating desired ad format.
Installing Page-Level Ads on Blog / Website
Installing the code on any website is very easy and give you the ability to display extra ads above the limit of 3 ads per page.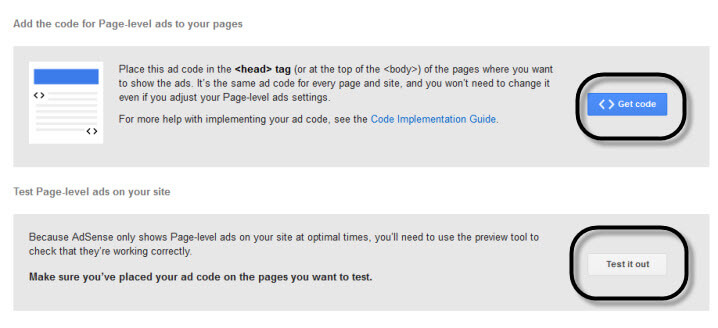 After you have enabled the ads, just click on "Get Code" and copy the code displayed and place this ad code in the <head> tag or at the top of the <body> of the pages where you want to display these ads.
To put this code in Bloggers blog (Blogspot), just go to "Layout" and add new HTML/Javascript gadget and put the code there and save it. You can also put this code directly to template coding.
For WordPress blogs, add new widget and put the code in it and save.
Testing Google AdSense Page-level Ads on Website
Now to test AdSense page-level ads after installing the code, just open mobile version of the website on your Smartphone and add "#googleads" at the end of the URL on your mobile web browser and refresh the page.
Now it should show you a different ad format option on the top of your mobile website as below.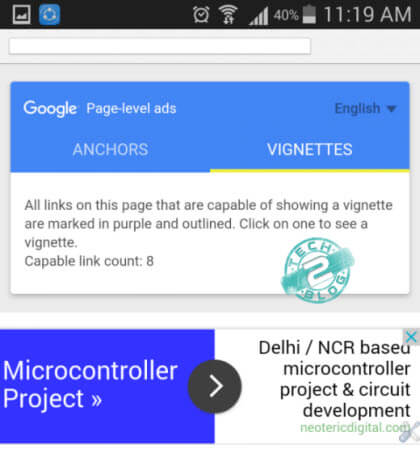 Just click on any of the page-level ad format and test it. I was able to test both the format on the mobile version of one of my websites.
---
Currently, the Adsense Page-level ads are available in anchor/overlay and vignette ad formats only and more ad formats will be available soon. I am sure you will try new page-level ads and will increase your revenue. If you are having any issue with installation or testing, please let me know through your comments below.