How to Create Google Plus Page for Website
Today while working on brand building for our blog Tech2Blog.com, I decided to make Google Plus page for it. While searching on internet, I was not able to find much detail guide to build Google plus page for my site. So I decided to give it a try myself and thus sharing this article with you all, so that you don't have difficulty in making your first page on Google plus. For a newbie let me tell you what is a Google+. Google+ is the social networking platform similar like Facebook, which let you share your thoughts and web link with your friends and family.
Now, as we have understood what is Google+, so you should also know about Google plus page, which is additional feature of Google+. Google+ let you create brand pages for your website, product, company, society or any thing you like sharing with others. Below are the benefits of creating Google+ page for your blog or website.
Benefits of Google Plus Page for your Website
1. Good for Search Engine Optimization a.k.a SEO for your site.
2. More user interaction, which build relationship with your visitors.
3. You can directly interact live with your user using Google Hangout.
4. When user share your post in Google+, you are likely to get more visitors.
5. More visitor's definitely means more and more money.
So now follow the below guide to make your Google plus page for your website and get rolling.
Step by Step Guide to Create Google Plus Page
1. First of all you should have joined Google Plus social network then only you can create your Google page for your brand or website.
2. While you are in your Google Plus profile, just scroll little down and hover on more, which will show you page option. Just click that after which you will see Create New Page.
3. Now you will be redirected to Category select page, where you have to pick best category for your Google plus page. Now here you have to select Product or Brand as category and choose Website as sub-category.
Now after choosing category and sub-category click on next.
4. Now after following step 3, you will be shown add information page, where you have to add detail about your website like Google page name and website address.
After entering appropriate information check on policy agreement and click on continue.
5. After entering your website detail, now its turn to make your page attractive by adding cover and profile photo. Just choose best cover photo, which you have made for your website from your computer and upload it. You can also use default cover photos from Google plus.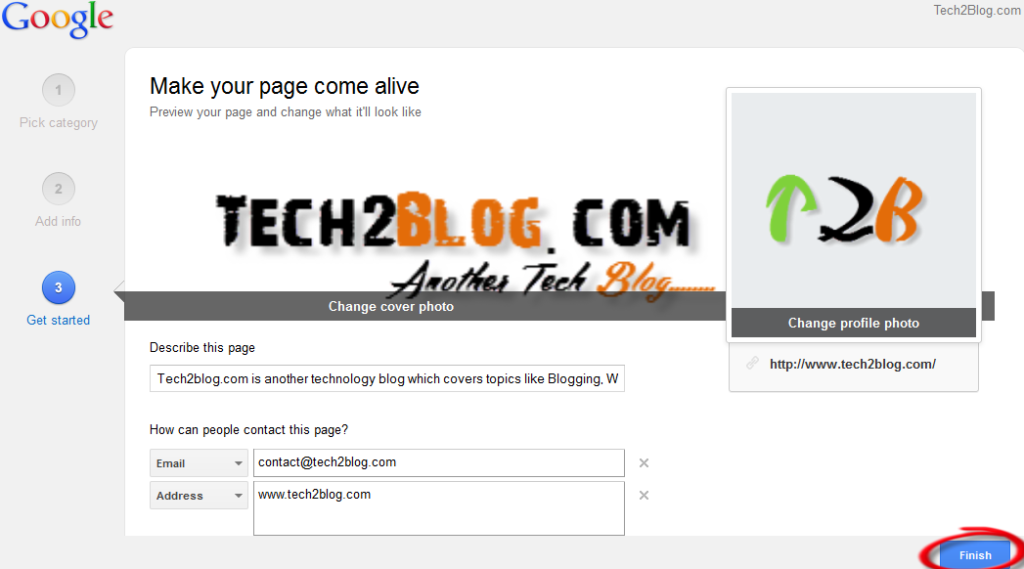 Note: If you are creating your Google plus page cover photo, then its size should be 470 pixel wide and for profile photo, size should be 250×250 pixel.
At this stage you will also have to add your blog description, Email, Address, phone number and click on finish.
Now your Google page for your website is ready and you can share your page with your friends and colleagues. After you have created your Google page, add all your website post to it. I am sure you must have got some help with this post while creating your Google page for your website and product. If you have issue in setup of your Google page, do let us know through your comments and don't forget to join us on Google page.