How to Host Website in Google Drive
In this world of Technology, Cloud computing has become on of the most demanded technology all around the globe. There are many companies which are providing Cloud storage facilities for free and paid both. Google drive is one of such cloud service provided by Google, which allows you to store files remotely and synchronize it with your PC desktop, Laptop or Mobile. Initially Google Drive was Google docs, where your can create, edit and share your document on go. Some of the similar cloud storage service are Droplr, CloudMe, SkyDrive, DropBox etc.
 
Benefits of Google Drive
1. First and most important benefit of using Google drive is that, you can save your files to a cloud server for free.
2. You can upload your files remotely and access them anywhere in the world.
3. You get 5 GB of free storage with Google drive. If you want more you can choose from there different plans.
4. You can upload your HTML, JS, CSS files in Google drive and can share it with everyone.
5. As you can upload any file in Google drive, so now you can also host your website in it. It is a good option for developers and website creators.
6. You can create document, spreadsheet, presentation online.
7. It will help Blogspot user to upload there js and CSS files for free.
Recommended Reading: Cheap Hostgator Hosting
Step by Step Guide to Host your Website in Google Drive
1. Go to Google Drive and login with your Gmail account. If you have already installed Google drive in your PC, then directly go to Google drive folder in your system.
2. Now when you are in Google drive, just create a new folder as shown below.
 
 
If you are in your Google drive folder in your PC, just create a new folder there with any desired name and it will automatically sync with your Google drive.
3. Now you can go to your newly created folder and can upload your HTML, CSS, JS etc. files in that folder or can directly upload your folder in your drive while clicking in Enable folder upload.
 
If you are in your own station/desktop with Google drive installed, just put all the files of you site, you want to host in the newly created folder in step 2.
4. Now in that folder click on more and go to share as shown below.
 
Now here you have to choose Public on the Web in the visible settings and on Access setting, set to Can View a shown below.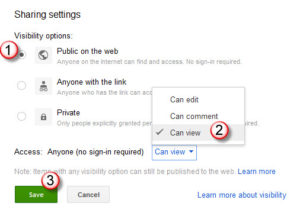 5. Now to get the link of your webpage in Google drive, just click on the main home page file of your website in Google drive and then click on "Preview" button as shown below.
This will open your webpage as it will look to your viewer in the web. Just copy the URL from address bar and share the link with your reader's.
The Google drive website link will look like below link. Below is a sample web page link which we have specially created for testing Google drive Webhosting.
https://googledrive.com/host/0BzoyPlr-5_FnSnlXZjN6aTZEcHM/index.htm 
In above sample HTMl page website example, we have just created two page. One main page and one sample about us page for testing.
At present you can not host your own domain with Google drive and you will have to use default Google permalink for your webpages. While testing we found web pages hosted in Google drive to be opening very fast.
This is how you can upload your own website in Google drive for free and storage up to 5GB. If you have any question regarding web-hosting of files in Google drive, feel free to ask through your comments. If you like our tutorial, please consider it sharing with your friends. You can also Subscribe to Tech2Blog.com by Email to get free alerts on your Inbox.