GOSF 2014 Promises Unprecedented GOSF Offers
If you are an ardent online shopping lover, you would surely be looking forward to the biggest shopping festival of the year – The GOSF 2014. The mega event scheduled to start from 10th December to 12th December has already attracted a lot of attention among the potential shoppers in the online world, especially on the social media platforms. Riding on the legacy of the past two successful years, this year the event is going to be an extravagant affair.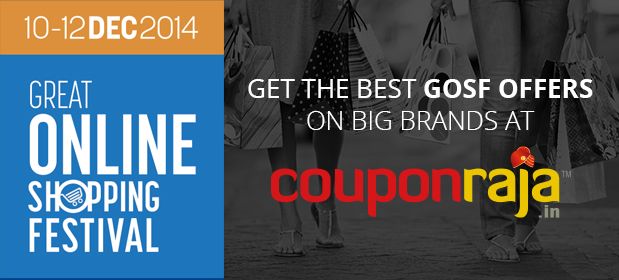 The concept which was originally designed to boost the online shopping market in India has been a huge hit among the Indian audience. The festival is a Google initiative to provide the retailers and e-commerce stores in India an opportunity to increase their sales and earn valuable revenue. In 2014 the great online shopping festival will partner with more than 450 brands, retailers and e-commerce stores that will all compete against each other to increase their sales by offering the best discount deals and offers.
In addition, the event will see the launch of various new products from leading brands like Nexus, Lenovo, Asian Paints and Motorola. These brands will be offering exclusive GOSF offers on their products.
To attract the attention of the first time shoppers, the Great Online Shopping Festival will feature a special GOSF offer known as the 299 corner. The offer will allow the shoppers to purchase products originally priced between Rs.600 and Rs.1500 for just Rs.299. Apart from the huge discount, the shoppers will also have the benefit of free delivery and cash on delivery option.
Another exclusive GOSF 2014 offer is the 14 minutes free shopping. It is a contest hosted by some of the leading brands in India. The contest will be held from 25th November till 8th December 2014 and each day one brand will give the shoppers a chance to participate in the contest held on the social media websites and get a chance to win 14 minutes of free shopping.
Not only this is a shopping festival but also a good opportunity to earn money. If you are also having any shopping website in any category, you can offer your products and offers in GOSF. This shopping festival is also good for affiliate marketers.
There are a plethora of deals for the online shoppers to look forward to; the offers are designed keeping in mind the interest of different shoppers across all age groups. No matter, if you are looking to buy footwear, clothing, accessories, electronic items, jewelry, groceries, baby care products, home décor items, gaming consoles, gifts, computers and laptops, holiday packages, hotel bookings and air tickets you can surely find GOSF offers to suit your need.