FreeNet: Internet Should Be Free?
In this digitized world, you have all the information at your fingertips. You just have to type it and you have the information on your desktop or Smartphone screen. But even in this modern civilization, we have people who are not getting the power of the internet and are deprived of it.
But now there is good news for people who were not able to afford the internet as Reliance & Facebook has come in joint venture to provide free internet in India through Internet.org.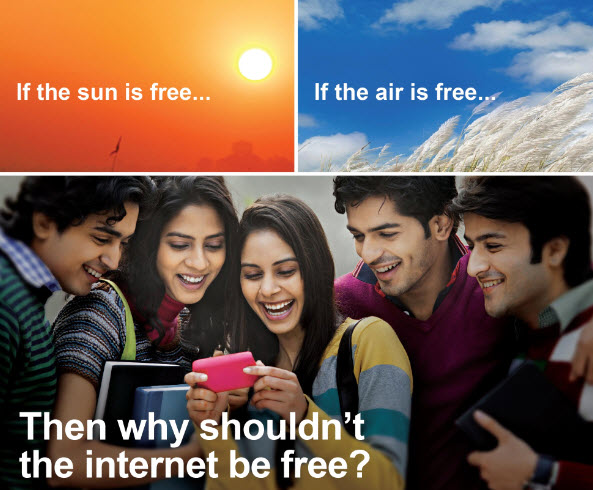 Image Credit: Reliance FreeNet

This facility is available in selected cities for now and only on Reliance network. Facebook is already running free internet campaign in many countries like Ghana, Kenya and Zambia, Colombia, Tanzania and now India to provide free basic internet services where these services are less affordable.
The internet has become one of the necessities of today's world and to find any information everyone is using the internet, but some are not able to afford it due to N numbers of reasons and you will be shocked to know that two third of the world is not accessing the internet.
Advantages of FreeNet
Through Reliance FreeNet service, anyone with reliance network can browse free websites.
No data pack need to be activated.
Android app also available for the internet.org
No depletion from Data Quota or from Main Account balance on using Internet.org.
Available in Mumbai, Maharashtra & Goa, Gujarat, Andhra Pradesh, Telangana, Tamil Nadu, Chennai, and Kerala regions for Reliance GSM (Postpaid/Prepaid) & CDMA (Prepaid) Mobile Customers.
Useful and informative websites for free browsing.
Cross browser support.
There are many other advantages of this free service and I think access is given to every useful websites through internet.org in categories like communication, information, finance, entertainment, health, etc. Overall there are 33 free websites which you can access through the Reliance Freenet Connection.
Currently internet.org can only be accessed on Reliance network in India.
There are a number of people who have the capability and caliber, but due to lack of facilities, are not able to pursue their dreams. The internet is the power where everyone can learn new things, get connected to different people, can know what is currently going on different part of the country, can become part of social causes and many more things just by browsing the websites.
Now everyone has mobile phones and those days has gone when mobile was only in reach of rich people. So if this mobile is used wisely, many fates can be changed. Through FreeNet service and your mobile phone, you can have access to the best websites for free.
By providing free access to important websites in internet, we can really give the key to enormous amount of information to needy people and I am sure they will be using it wisely and innovative minds will do something big.
The biggest database of knowledge, Wikipedia can be also accessed for free from this service. If you want to find jobs, you can browse Times Job & BabaJob. There are many such useful websites and you can get the full list on Reliance website.
Currently, social media are also playing a very crucial role in spreading awareness among all age groups of people.
And as per the case study by Salzburg Academy, "Citizens who have access to the Internet and social media platforms are more aware of their social, political and economic environment than those citizens who lack access".
So if free internet is provided to people who don't have access till now, will surely give more knowledge, more confidence to individual and I am sure will help in the overall development of personality. If all the citizens in our nation will grow, then automatically our nation will also grow, empowering our nation.
Don't you think, the internet should also be free like any other essential things?
I am sure Internet.org and FreeNet service is going to be a boon to society and going to help billions of people who really need it. Let me know what are your thoughts about internet.org and how this initiative gonna work for people according to you.