Father's Day Gifts under Rs.5K
Father's Day is the perfect occasion to cherish and honor your father who has played such an important role in your life.
He has always been there for you when you have needed him most, listening to you and teaching you life's important lessons with some good advice.
He is the one you think of first, on those difficult days, when you depend on his support. He is the first to share your good times with his warm hugs and jokes. He has always made you proud by rejoicing in all your achievements and milestones through school and college.
"The greatest gift I ever had Came from God; I call him Dad!" – Author Unknown
He is special, because he is the only person in the entire world who belongs to you and who you can call your DAD. So, celebrate the special day with him. Give him a very special gift and a note that says how much you appreciate him and how much he means to you as the world's best dad!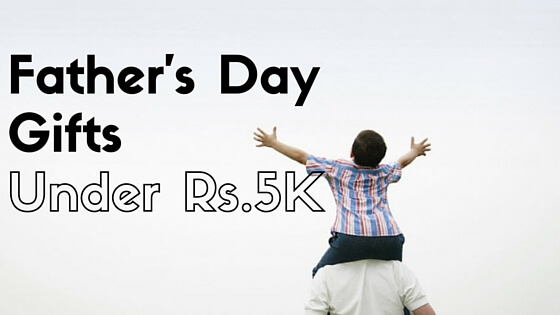 Philips Aquatouch S5050/06 Electric Shaver
Give your father the gift of protection against nicks and cuts while shaving. The ComfortCut Blade and rounded head profiles of the Philips Aquatouch S5050/06 Electric Shaver protect 10X times better compared to a regular blade. The 5-direction Flex Heads are great for a fast and comfortable wet or dry shave with close skin contact. You get 30 minutes of cordless shaving with every 8 hours of charging. That's enough for about 9 shaves. It comes with a click-on trimmer for sideburns and mustache trimming that will make your father standout in a crowd.
It is 100% water proof and comes with a 2-year Philips guarantee from the date of purchase.
Price: Rs. 3,970
GOQii 3 Month Personal Coaching with Fitness Tracker
This gift idea is more than just a pedometer with a watch. It is a fitness and healthy lifestyle enabler for your father. The device worn on the wrist is an advanced fitness tracker that monitors daily activities such as walking, running, water consumed, calories intake, sleep and more. A personal coach subscription for 3 months is a standout advantage. The coach guides you and motivates you after reviewing your data. The device connects wirelessly to most smartphones.
Price: Rs. 2,399
If your father is getting on in years and has problems using the smaller, sleeker mobile phones, this one is designed just for him. It has large display font and big spaced out keys for easy use. Other features useful for the elderly include photo dialing, single key dialing for 8 contacts, a 4-action SOS or emergency button, and a cradle for easy charging. The voice quality is excellent and this is great news for those with advancing years.
Price: Rs.3,375
Michelin 3140C Air Compressor for Car
This 'Do It Yourself' Michelin Air Compressor for inflating car tyres is a great gifting idea for DIY Fathers. It's much easier than a foot pump and will save your father a lot of hard work involved in inflating all 4 tyres of his car. It is programmable, automatic and accurate as it incorporates a digital gauge. The auto-shut off feature at the set psi is very useful.
The hose is extra-long to reach the tyres easily and self-coiling. A built-in torch is a thoughtful feature. It uses the car battery and connects to the cigarette lighter socket in cars. The compressor can prove to be a life-saver in emergencies.
Price: Rs.2,957
Sennheiser RS 110 II On-Ear Headphone (Black)
Recall those beautiful domestic tiffs when your father had to turn down the volume of your TV or music system when mum was suffering a headache? These open, supraaural wireless RF headphones will now set your father free to enjoy the music or TV. With a range of up to 100 m, these comfortable and light headphones have the volume and tuning controls conveniently located on them.
The sound reproduction is great. While your father enjoys the clarity and the details of the audio, mum will not even notice the audio! When she wants to tune in, multi-receiver transmission for as many as 4 people is possible. The headphones come with a 2 year warranty.
Price:Rs. 4,479
Father's Day is celebrated on the third Sunday of June, every year. This year, it falls on 19th June. So, get working on your Father's Day gift and don't forget your personalized note that goes with it. Happy Father's Day in advance!