Some Cost-Effective Approaches for Mobile and Web App Development
Posted on

September 14, 2015
In Business
Modern day environment is experiencing progressive trends. One of such trends is application development that plays an imperative role for any business. Consider the study of Forrester that says "The software that you implement especially the tailor-made software you create will continue to be a part of your competitive edge." As more and more businesses are shifting towards the web, the people who can deliver quick, innovative products in a cost effective manner gain a competitive edge.
The issue is, web development is getting complex day-by-day. It requires one to be knowledgeable in multiple areas including integration, user interface design, responsive design, programming languages, databases in the backend and many more. And, every business can't afford to hire a team of skilled professionals from every arena.
This leaves you stressed with some questions like – How will you pace up without going above your budget limits? How will you be able to create cost-savvy applications to drive your business?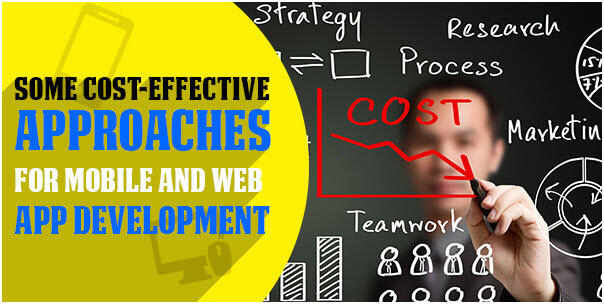 Let's have a look at some precise steps, following which you can be cost-effective in mobile as well as web app development:
1) Always Make Your Specifications Clear: Majority of the businesses work on a development project with a rough idea rather than having clearly specified requirements. This results into huge wastage of money. If you won't have any clear goal, to what your team will focus? Therefore, define your requirements clearly and specifically so that the development time can be used up productively instead of wasting time in confusions what exactly is required.
2) Deploy Your Application Faster: It's quite a common concern of trying to develop everything in place prior release of the application. When the users get a final product and it's not what they actually wanted. What's next? So, it is preferable to come up with the bare minimum featured app so that you can alter the application as per user's specification and can deliver a quality end-product.
Recommended Article: 20 Awesome Portfolio WordPress Themes
3) Provide Your Developers the Requisite Tools: It is one of the common yet ironic concerns that companies don't provide their developers with the adequate tools just to save few bucks. But the real picture is "The loss of productivity due to this non-availability outweighs all the money saved." If you have your in-house team of developers, make sure you are providing them with the right set of tools required.
4) Have a Long-Term Perspective: You should consider every aspect with a long-term perspective – be it the tools that you provide to your developers or the strategies you are working on. This is quite important to consider for succeeding in the marketplace.
5) Investment in Templates or Frameworks: whenever you think about redesigning your project, you can have two choices – one to build the entire website from scratch and second to get a template that you can modify as per your requirements. The obvious choice here would be a template as it's a great way to save money for the website as well as web app development. To put simple, you should focus on alteration than that of ground-up creation.
6) Try Integrating before Restarting a Project: Whenever we need any specific feature, we start asking for it before checking out the possibilities of getting a solution within the existing thing. This doesn't mean that you should not get something from scratch, you can definitely ask for a new product, but what if that solution can be attained without investing much time and money. So, you should look out all the possibilities rather than simply starting from the scratch.
7) Find a Payer: You might be wondering why someone else would be interested in paying for your development. Well, here you consider two scenarios – one is there are many developers who spend a little or no money on development, but sell their concept to potential customers at good prices, and second is there are many companies who are ready to spend on the developers who can shape their requirements into an exact product. So, you can either sell your own product or can engage in someone else's project.
All the above-mentioned points are some good ideas for achieving cost-effective mobile and web app development.
Author Bio: Katie Stanfield, the author of the article, is working as a mobile app developer with Xperts Infosoft. She has highlighted some good ideas that can make any mobile and web app development project cost-effective. Connect with her on Facebook and follow her on Twitter.