Change Feedburner Delivery Email & Subject for Better Branding
We all know that Google Feedburner is a free email delivery tool, which allow your visitor to subscribe to your website and blog and deliver the latest post of your blog to their inbox's. It is one of the great email marketing tools which is available free of cost and allows you to add your affiliate links to each of your emails. In end of 2012, though Google has stopped feedburner from their Adsense program but still it is the most lovable email subscription service.
Feedburner provide its user with many facilities and features free of cost but today we will tell you only about how you can change your feedburner delivery email for better Email branding along with subject line. By default feedburner uses your login email for all the feed which you create and it is important that you change it with your own desired email address.
Do not think that, it is not important for you because brand does matter either you are a professional blogger or part time. And with your own branded email for delivery will be good for your website in many ways.
Recommended Reading: How to File Income Tax Return for Bloggers
Steps to Change Feedburner Delivery Email
There are certain steps which you should follow to change feedburner email address. First of all you should have valid burned feed for your website or blog.
1. Go to your feedburner account and click on the desired feed (if you have more than one) for which you want to change the Email.
2. Now click on Publicize and then go to Email Subscription on left hand side.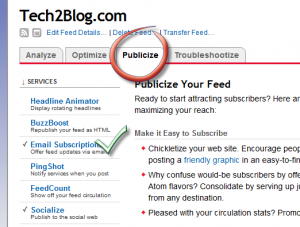 3. Now go to Communication preference and put desired email address in "Email from Address" field.
4. Below Email field you can put your desired confirmation subject line which will be send to your subscriber.
This is how you can change your delivery email address and confirmation subject line, which will surely make your Email delivery more professional and trendy. If you like our post, please consider sharing this post with your friends and do subscribe to our newsletter. Do not forget to subscribe to our blog to get such updates for free.