Buy Nexus 7 in India through Google Play
Posted on

March 26, 2013
In Android
If you are a great fan of Android tablet devices and looking for some robust and reliable tablets in the market, then there is a great news for you. Now Google has launched its latest Nexus tablet in India with price tag of Rs.15,999 only. This latest Google tablet device comes with latest Android version with good storage capacity.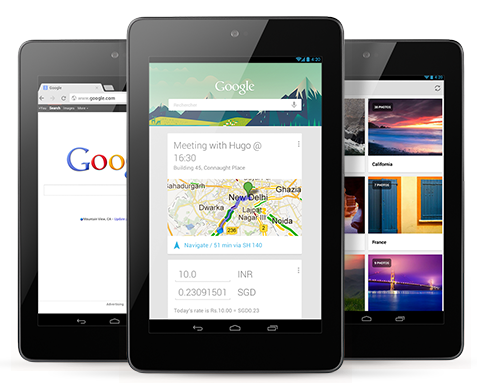 Key Features of nexus 7
1. 7 inch 1280×800 HD display
2. 1.2MP front camera
3. 1 GB RAM
4. NVIDIA® Tegra® 3 quad-core processor
5. 16 GB internal storage
Technical Specification of Nexus 7
This Google tablet is powered by the latest version of Android i.e Android 4.1 (Jelly Bean) and is the lightest tablet in its category with only weight of 340g or 12oz. This light weight tablet is backed up by NVIDIA® Tegra® 3 quad-core processor, which make this tablet ideal for gaming.
This tablet comes with 1.2 MP camera, which can't be said as very good but it has 1280×800 (216 ppi) HD display and 7 inch screen with Back-lit IPS display, which make it perfect for watching HD movies and videos and gaming. Size of Nexus 7 is 98.5 x 120 x 10.45mm.
Recommended Post: Nokia Lumia 620
This tablet is fully built for gamers and give great performance with its NVIDIA processor and sensors like a gyroscope and accelerometer. This first Google tab also supports 10 hour web browsing and 300 hour standby time.
As far connectivity is concerned of this tablet, then you don't have to worry, as you can connect this device with the help of in-built Bluetooth and Wi-Fi. Nexus 7 is equipped with 4325 mAH battery which provide up to 8 hours of battery backup, when actively used.
Price of Nexus 7 and Availability

Present price of Nexus 7 with 16GB internal storage is Rs.15,999 and it can be bought from Google Play store with extra shipping charge. At present only 16GB Nexus 7 is available in Google play.
Bottom Line

Nexus 7 is the first tablet from Google, which is very light weight and comes with good processor and RAM. Though this tablet does not have calling facility as there is no SIM slot. Also Google has given a very less mega pixel camera in this tablet but its HD display and GPS facility overcome these drawbacks. This tablet from Google, indeed is a very good tablet and people who love playing games on Android devices must try this.
Nexus7 is a very nice tablet from Google and is specially designed if you love to play games in your Android devices.