Serious mobile gaming is becoming increasingly popular and a lot of that has to do with the quality of mobile MMOs that have been released in recent years. Thanks to improved hardware, it has been possible to make MMOs bigger, better and way more playable than ever before.
This year, 2017, in particular, has seen the release of some truly fantastic titles in the MMO Genre. So, if you're looking for a Massively Multiplayer Online game that you can take with you wherever you go, you're in luck.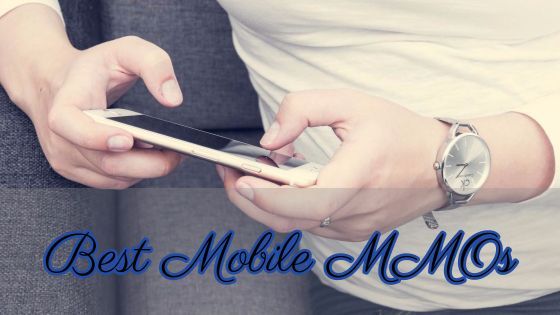 To ensure that you choose the best game for you, here are some of the biggest and best mobile MMOs released in 2017:
Adventure Quest 3D
This free MMO is available on both Android and iOS, as well as PC, and it is undoubtedly one of the best examples of what can be done with the technology right now. More ambitious than most of its bedfellows, this title is firmly rooted in the fantasy genre. There are four different classes, Guardian, Warrior, Mage and rogue that you can play as and the 3D graphics are pretty impressive all things considered, making it a great alternative to the likes of Warcraft and Runescape for those of you who want to game on the go.
Vendetta Online
This is a free title, but it does have a level cap. Fortunately, you only need to pay $1 per month to have full access to the game and chances are you are going to want to have full access because this title, which is again available on both platforms is a kind of mash-up of casual mobile games and space simulation titles. That might sound weird at first, but once you've played it, you'll see that it really works. The space simulation graphics are sublime, and it is about as close to the complexity of PC MMORPGs that you can get using mobile hardware.
It's also a difficult game that challenges and requires plenty of skill to make it through. If you like playing games that see you shoot stuff in space, it's one for you to sink your teeth into.
Celtic Heroes
Celtic Heroes, too, is a fantasy MMORPG game for mobile devices, but it is rather unique in that, unlike most fantasy games of the same ilk, it has a strong Celtic theme running through it, which is immediately evident in the setting. This is enough to make it stand out from the crowd along, but add in the extremely comfy touch controls, and the fact players can form guilds, trade, and do battle it is certainly one to be aware of.
Final Fantasy XV: A New Empire
If you've always loved the franchise, you'll be delighted to know that you can actually get even more involved and build your empire in Final Fantasy XV in what is the biggest MMO in the series to date. This latest outing from Nintendo sees hero Noctis Lucis Caelum fight monsters and hunt for treasures in a world where chaos is threatening to spill over and ruin it all.
Dungeon Hunter 5
Dungeon Hunter 5, which is available on both iOS and Android, is, of course, part of the very popular Dungeon Hunter franchise, which is one of the best performing in the mobile gaming world. However, it's a lot more than that – it also happens to be one of the best hack and slash titles available on mobile too!
Not exactly an MMO as you would usually classify them, the game is all about asynchronous multiplayer and co-operation, a bit like Clash of Clans and other similar titles. That means that you can play in singleplayer mode, acquiring assets and placing them in your dungeon, which other players can then raid. In your dungeon, you'll also find an Artificial Intelligence version of your character, which is there to help you protect your loot.
It's a great deal of fun.
Order & Chaos 2
The Order & Chaos series of games is critically acclaimed, so it is hardly surprising that this second offering is really quite impressive. Showing other MMO games what they should aspire to be, this game is amazingly immersive, with beautiful scenery that, despite being on mobile, almost seems real somehow. Not only that, but it gives you a choice of five different classes and is basically full-on fantasy. If you don't like this game, you don't like MMOs.
So, there you have it – a guide to some of the best MMOs released this year.Download any of them, and you're sure to have lots of thrills and spills.
Do let us know what are your thoughts on these games and if you have any other in minde let us know through your comments.