Best & Economical Joomla Template to Make Mobile Website
Do you really want to make your Joomla website responsive to the all kinds of device? You can do it easily and make your website compatible to all kinds of devices. The best thing is that you do not need to change anything for the use of Responsivizer. All you have to do is to install latest version of Responsivizer and it will include all the tools that will make your web portal compatible with the desktop as well as the mobile phones. Here I am going to review Responsivizer which will help you make your site responsive and compatible with all kind of screens.
You might have already come across various such tools which claim to make your portal responsive with all the platforms but sadly most of them are of high budget. But you can make your site responsive in a cheap and easy way. The full solution to your problem is the responsivizer. If you want to display your Joomla site on your phones, Android tablets, windows phones and other devices install it today.
Recommended Article: Create Responsive Google Adsense Ad unit
All the users have given an awesome review and said that it is the best way to make the speed and performance of the site better and we our self has used this template on one of our client website and it is working perfectly fine. This tool automatically adjusts your site according to the screen resolution of the device being used and hence a single design can be used for all the devices. Now the next question is what is Responsivizer template ?
It is simply the future detail of the usage that will include the single design for different device users. Not only this, this template is fully customizable like all other Joomla templates and along with the other features. The basic features of the template include fine settings and set of predefined themes which makes it more interesting. The layout management has been configured and made more advanced and easy which needs exactly one click and everything is easily done. The type of mapping done is the dynamic module positions mapping which includes integration with the existing template.
Responsivizer Features
Responsivizer is trusted by thousands of people as it contains many features which would surely attract the people. You can easily check out how your site would look like on the mobile with the help of the device emulator. You can easily customize it according to your requirements using the user friendly control panel provided by it. This also includes the advanced technology and supports the touch, swipe and many additional features.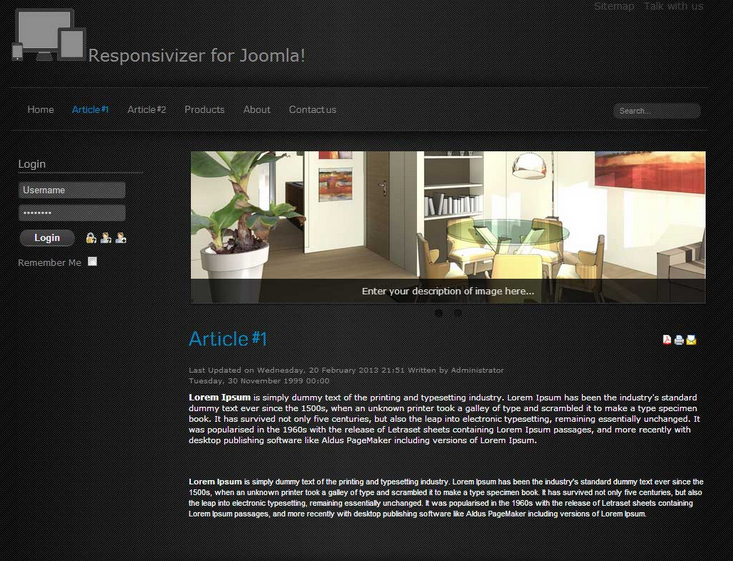 Desktop Version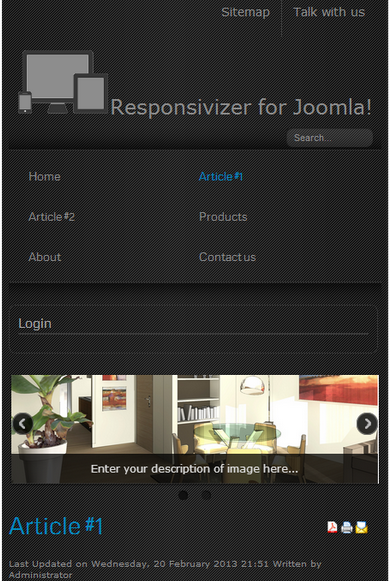 Mobile Version
It provides an additional feature using which you can even make your site available when the connection is lost or when you are offline. It will automatically detect the devices and choose the right template when it is required. It supports the advanced touch slideshow which includes many images and data with the option of drag and drop. Even if you have attached some videos or images to your site from YouTube or any other site, Responsivizer will automatically detect the video and adjusts the dimensions according to the resolution of the device. All this is automatically done.
The advanced features of the template include Google Analytics code support, company logo management, responsive ready images and fixed size HTML documents, image compression and optimizations, template switcher for desktop site version, Touch support and optimizations, performance boost, remote advanced device detection, I Pad and tablets support, multi-site on same domain and instant support and assist by professionals.
---
I hope this Joomla template will perfectly work for you while making your Joomla website mobile ready. If you face any issue or want to know more, let us know through your comments. Don't forget to follow us on Twitter, Google+ and Facebook.
Responsivizer is one of the best and a cheap Joomla template to make your website responsive and mobile ready and you will not have to make a separate mobile website for yourself.