An Argument in Favor of Blog Tags
Blogging, though a personal art, is not solely for the writers. In fact, the purpose of blogs, even more so than with most writing, is for the benefit of the audience. Blogs typically have a theme, if they are not merely a personal account, and thus are meant to serve some end; helping backpackers find the best trails and supplies, for example, or reviewing the best horror movies for fans of that genre. There are many ornaments of blogging which make post beautiful, and one of such ornament is "Tag", which we are going to discuss.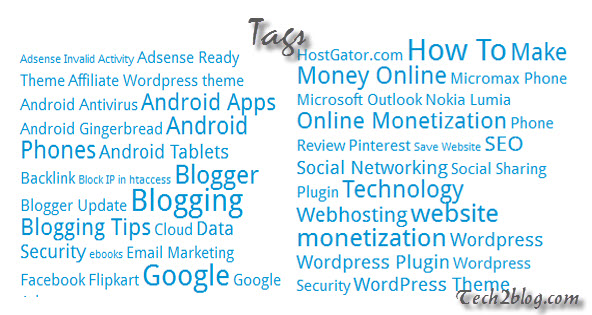 Tags make sense because they help users find the content they are looking for, or track down posts that they found previously. Tags are different than categories, because they don't have a distinct structure. Categories in blogs organize content in a sort of tree chart form, with a broad category of the blog, a few major categories as major headings, and then headings beneath those with more detailed posts, and so on. Tags do not have that same structure, and instead are organized merely in terms of similarities within the tag. All posts on a blog tagged with "monetization", for instance, will show up when the tag "monetization" is searched.
Recommended Article: Build Email Marketing into Your Business Strategy
An article on tagging advice from ProBlogger Aaron Brazell defines the difference between categories and tags, and why both should be utilized, despite the fact that categories have a more manageable structure. Tagging blogs within categories helps readers to find content, as it is entirely possible that within one category there might be hundreds of posts. It is also helpful when finding blogs that readers can't quite recall the title of. By remember the subject, and searching for that tag, they are more likely to find the content they are looking for on your blog than by hunting through titles that are rarely as clear and concise as a one or two word tag.
Internal versus External Tags
Internal and external tags differ, in that the blogger is primarily responsible for creating internal tags, and the blogging site is the primary provided of external tags. Internal tags are created through utilities on blog sites that allow the blogger to create links within their blogs that tag to certain keywords. This stops tags from impacting the flow while still providing the hyperlinks, and allows for more traffic from sites other than the primary blogging site.
External tags are organized based on the blogging site itself, for example WordPress, which provides tag templates, certain tag cloud features, and the ability for bloggers to submit tags about the general subject matter within the blog that can be traced by searching through the WordPress website. These are the easiest tags to use for the beginning blogger, or for bloggers who are not concerned about a potential interruption of flow within their blog posts.
---
In all tags play a very important role in blog post and blogging. Tags also make blog more search friendly and give users more option to refine their search. Hope this post have given you an idea why tags are used in blogs. If you like this post please consider sharing it with others and also share it on Facebook and Google+. You can also subscribe to Tech2Blog.com by Email to get free alerts on your Inbox.