Anonymous Web Surfing with Hide My IP
If you are looking for surfing anonymously throughout your online internet session without affecting your speed and system performance, then I will recommend you to use "Hide My IP" software which I am going to review for you. With this software you can do anonymous web surfing with the help of fake or virtual IP and protect your identity.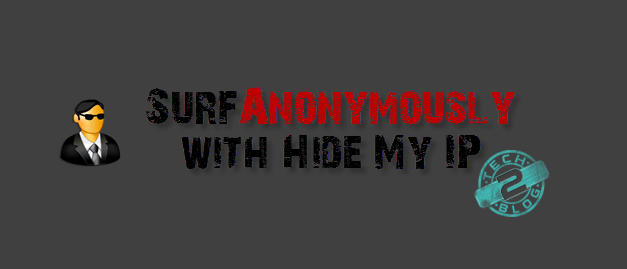 Today, anonymity has become a major concern if you are using the internet and want to hide your real IP from some country restricted websites or hackers.
Sometimes you may also need access blocked or inaccessible website in your School, Country or ISP and for that VPN service or DNS service can rescue you. Today I am going to review award winning privacy software Hide My IP which can be used to hide your IP address.
Before reviewing Hide My IP software, I want to tell about some of its awesome features, which will give you an idea why this software is right for you.
Key Benefits and Features of Hide My IP Software
Protect Your Identity
Anonymous Web Surfing
Encrypt Your Internet Connection
Prevent the Government from Spying on You
Send Anonymous E-mails
Enjoy faster surfing and downloading
See Blocked website
Access country restricted website
30 Day Money Back Guarantee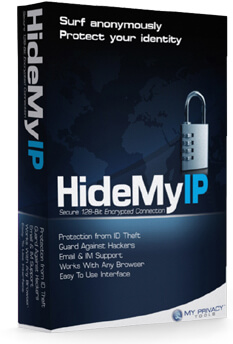 As you have read the key features of Hide My IP software, I don't think I have to explain each and every one, as they are already self explanatory.

The first thing which came to my mind when I downloaded this software was the size. The size of Hide My IP was only around 3MB, so I was happy that it won't use much space on my laptop hard disk.

The installation of this software was really very quick and just in a few seconds I was ready to use and test it. After installing and running software, I found its GUI very user friendly and you can just become anonymous by clicking on Hide My IP.
If you have some advance requirements like IP rotation, clear cookies on IP change or only require US based IP, you can enable it by using check boxes in quick settings.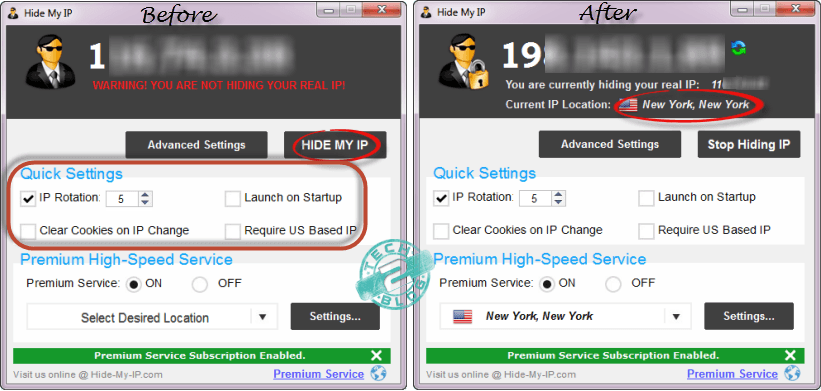 Another advantage of using "Hide My IP" is download speed. While on anonymous mode, I tried to download some files and was surprised to see the download speed. The download speed exceeds my expectations and was quite comparable to my broadband download speed.
Currently supported web browsers include: Internet Explorer, FireFox, Google Chrome, Netscape, Opera, Safari, Maxthon, MyIE, Avant Browser, and Lolifox
This software works well with Windows 10 / 8 / 7 / Vista / XP / 2000 / NT, Mac OS X 10.6 – 10.10. And also supports Android Smartphones.
How Hide My IP Works?
Working of Hide My IP is very simple, once you start this software, it will set your internet browser proxy settings in such a way that it will show fake IP address and when you start browsing any website you will remain totally anonymous.
These IP's come from Hide My IP data pool, which is very huge and there are thousands of IP in it.
Now when you stop Hide My IP, your web browser settings will revert back to normal (without the fake IP). The process is very simple and effective.
Premium Service Settings of Hide My IP
If you are looking for more options, then you can also buy a premium subscription of Hide My IP, which gives you more lot features.
With a premium subscription, apart from access to all premium IP pools, you can choose to which web application or browser it should work. You get 3 options i.e. web browser only mode, all internet application mode and selected application mode.
If you are an internet marketer, SEO specialist, email marketer or web consultant, you will find application selection mode very helpful as it has a list of almost all the email marketing tools, web ranking applications, chat applications etc.
There is also option to use the same IP address which was used in the last session. I think this is very unique option to get same IP every time.
Price of Hide My IP Software
Price of Hide My IP software is very reasonable and only priced at $29.95. And if you choose the premium service subscription, it will cost you $7 per month or you can also make single payment of $84.95.
In premium service you can choose from 72 Virtual IP locations, covering America, Europe, Asia, Africa. This software comes with a money back guarantee, so you must try this software.
---
I used this software for more than 10 days to review it and I really like how it worked for me. The download and browsing speed were very good and Hide My IP software also consumed very less RAM and CPU while working. So I will surely recommend this product to those who are very concerned about surfing online anonymously and want to protect their identity online or want to see block website without any restrictions.
This is a must have software for online protection of your identity. With Hide My IP, you can browse internet anonymously with much affecting your browsing and downloading speed.